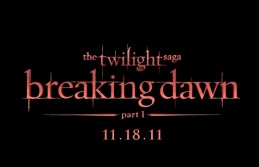 It's a special kind of hilarious to see various mainstream critics stating that Breaking Dawn isn't as good of a movie as its predecessors. I love Catherine Hardwicke as much as the next person, but trying to say that Twilight's low budget blue wash, Maybeline make up, and wonky hand-held camera angles as Edward drags Bella up a mountain in the rain are better than Bill Condon's cinematic Breaking Dawn…it's just not dealing in reality, at least not in my reality having seen the film twice.
Here is why Breaking Dawn is going to do well…really well at the box office.
1. The best "must be seen in the theater again" scenes since Twilight. When it comes to romantic moments, Twilight had the car ride, the dance, the longing looks. Despite New Moon's vastly improved production values, New Moon was a lot of no Edward and an unsatisfying reunion when he did finally come back. Eclipse was lots of action and CGI. Granted we had the proposal, and the leg hitch, but a lot of the romantic soul wasn't there. The birth not withstanding, Breaking Dawn has wedding and honeymoon that fans are going to want to see again and again and again.
2. Relatively speaking there is no competition at the box office. What are we going to do, see the Happy Feet 3D instead? Granted the Immortals with Kellan Lutz is playing, but it's no more of a threat than Jackson Rathbone's The Last Airbender was with Eclipse the last time out.
3. It's November. Don't get me wrong, Eclipse did really well with it's June release. It was the most successful in the franchise movie yet, but in the summer there are a lot of choices when it comes to entertainment, and I don't just mean the movies. The Eclipse total probably would have even been higher if it had been a fall movie. We are in November where the beach, family vacations, kids out of school, etc aren't distracting us. Breaking Dawn will rule in a November environment.
4. According to The Wrap, Breaking Dawn is on target to take out the New Moon total and a possible Harry Potter total.
"Breaking Dawn's" projections fall short of the $169 million all-time record set by "Harry Potter and the Deathly Hallows Part 2" last summer, but should be roughly in line with the franchise's highest grossing opener, the $140 million posted by 2009's "New Moon."

The studio is feeling more conservative, projecting an opening weekend on the order of $125 million.

Summit did not release the number of theaters that plan to host midnight screenings, but studio executives told TheWrap that the movie may be a 12 a.m. record breaker.

It could easily surpass the $43.5 million benchmark set by "Deathly Hallows Part 2" in late night showings."
So what are we going to predict in all of this? Here's where our guess is (and let's see how close we are when the numbers all close):
1. Breaking Dawn will overtake Eclipse's top single day and opening day gross records to put it number 3 on the all time record list right behind Harry Potter's final installment and New Moon.
2. It will end its run as the number three movie of the year behind Transformers and Harry Potter
3. It will break the $300,000,000 mark set by Eclipse
Early numbers will come out over the weekend, but the really, really solid stuff will be in Monday afternoon. Let the games begin!