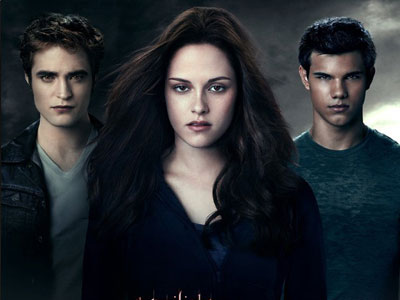 E! takes a look at the money Eclipse is earning in a summer where most intended blockbusters have positively fizzled.
A lot has been made that Eclipse isn't living up to expectations. Unfortunately the numbers disagree. Initially, statistically New Moon made more; however New Moon experienced significant box office drop offs that Eclipse hasn't. For example the first week that Eclipse made less than 1 million dollars on a given day was this past week. New Moon on the other hand, 30 days into its release, had multiple days with less than a million dollar take.
"With a $290.2 million domestic take, as of Wednesday, Eclipse is the third-biggest grosser of the summer, and the fourth biggest of the year. Worldwide, it's at about $650 million, which makes it the year's biggest 2-D movie so far, and third biggest overall, behind the 3-D-assisted Alice in Wonderland and Toy Story 3.
In short, Eclipse was, as expected, big.
"When you consider that the film cost under $70 million, it will probably, along with Toy Story 3, end up as one of the most profitable films of the year," Exhibitor Relations' box office analyst Jeff Bock said in an email."
The only place where Eclipse is not coming in as big as New Moon is in the foreign box office. That seems to be accounted for by fluctuating exchange rates. If you've traveled overseas lately you know what that is like.
"Summit exec Richie Fay said Friday he expects Eclipse to keep the edge domestically. Worldwide, he was less sure, saying foreign-exchange rates may cut into Eclipse's bottom line, although the film's overseas attendance has been virtually even with that of New Moon's.
"We're not really looking at franchise fatigue," Fay said. "I think our audience has remained relatively loyal. It might have [even] expanded a little bit."
Eclipse reached the 290 million mark domestically this week.  New Moon ended its box office run with 296 million.  We're going to predict that by next weekend Eclipse will reach the same box office draw as as did New Moon.  Additionally, we are going to go out on a limb and state that we think Eclipse will reach the elusive 300 million mark, something that few films reach. If it does so, it will mark the first time since Titanic that a primarily women's draw feature will have reached this mark.