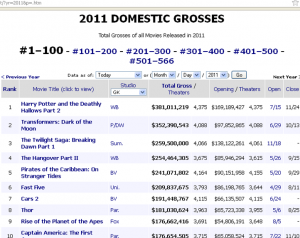 According to CBS News:
"The audience certainly is available. Unfortunately, they have not come out in the numbers they have in the past," said Dan Fellman, head of distribution at Warner Bros., which released "New Year's Eve," whose cast includes Sarah Jessica Parker, Halle Berry, Robert De Niro, Ashton Kutcher, Hilary Swank and Jessica Biel. "I'm hoping this is just a glitch, and starting next weekend, the box-office will expand."

Next weekend begins Hollywood's end-of-year blockbuster frenzy, with the debuts of Robert Downey Jr.'s "Sherlock Holmes: A Game of Shadows" and the family sequel "Alvin and the Chipmunks: Chipwrecked."

Charlize Theron's comic drama "Young Adult" goes wide after starting in limited release this past weekend, while Tom Cruise's "Mission: Impossible — Ghost Protocol" launches in huge-screen IMAX theaters before expanding to general release the following week.

Studio bosses generally blame bad weekends on bad movies. Yet while critics trashed "New Year's Eve" and "The Sitter," a lineup of well-reviewed, seemingly must-see family films that include "The Muppets," "Arthur Christmas" and "Hugo" so far have done modest business at best.

At No. 1 the last three weekends was "The Twilight Saga: Breaking Dawn — Part 1," whose audience is mainly women. "Breaking Dawn" fell to No. 3 this weekend with $7.9 million, raising its domestic total to $259.5 million.

Behind "Breaking Dawn" has been that rush of family flicks, with nothing fresh out there on the action front in more than a month.

"That has created a major vacuum in the marketplace, not serving that bread-and-butter audience of Hollywood," Hollywood.com analyst Paul Dergarabedian said.
As you can see in the above chart from Box Office Mojo, Breaking Dawn is strongly holding on to its position of the number three movie of the year. It's unlikely that it will overtake either the number one or number two slot, but depending if Summit pulls its box office run early for a Valentine's Day DVD release (the other films had until mid March) It will probably cap out in the 280 million range.
Breaking dawn will certainly not drop out of the top ten. the question is can any of the Christmas blockbusters like the next Sherlock Holmes installment overtake it.