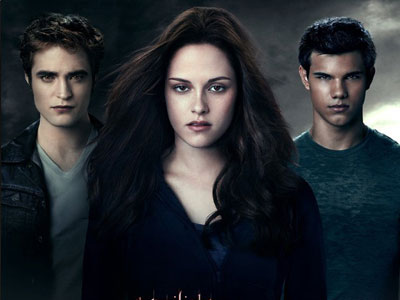 According to the Los Angeles Times:
"Last November's "The Twilight Saga: New Moon" grossed $179 million in the U.S. and Canada by its sixth day and "Eclipse" will likely do at least that much by Monday and possibly as much as $200 million, said people who have seen prerelease surveys. The new film has an advantage over its predecessor given the holiday weekend, the fact that many students are off from school and can go to weekday matinees, and that it is the first "Twilight" movie to play on premium priced Imax screens.
As a result, total receipts for the new film will almost certainly be very front-loaded, with most of its revenue coming in the first week.
"It's a compressed period during which we expect to do a whole bunch of business," said Summit domestic distribution president Richard Fay.
It remains to be seen, however, whether "Eclipse" will significantly outperform the $297-million total gross of "New Moon," or if it will simply be the same "Twilight" fans turning out once again."
To us, what they are not taking into consideration here is that the rewatch factor on Eclipse is going to be far higher because we are no longer dealing with depressed Bella,and a movie where Edward is largely absent. We are now moving on to the book that is (in our opinion) most fans' favorite, and the romance is there. People are going to want to see it again and again. As for the twiguys, not sure how it's factoring in, but in the showings we've gone to there are far more testosterone laden guys who were not dragged there by their girlfriends. To quote a pair that Alphie met, "Team Bella! Kristen Stewart is HOT!"