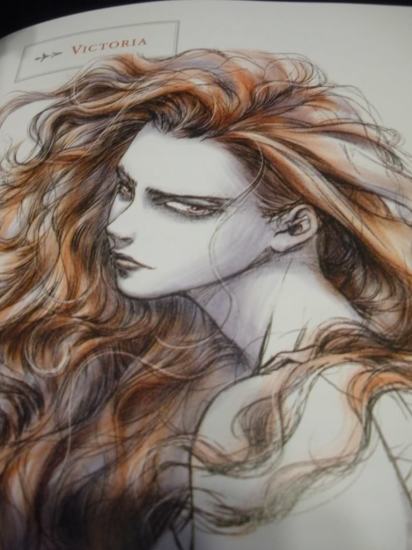 So clearly this is our subjective and highly biased view, but here are the five stories in no particular order that are found in the The Twilight Saga: Official Illustrated Guide. (You can buy the guide from Barnes and Noble or your favorite indie bookstore) that we think have the most promise for short film adaptation.
1. Alice's Backstory
Alice is easily the most popular female character after Bella. Trust us, whenever there was a Twilight costume contest, there were always more Alice's than any other character. Her backstory is great when you realize that it's filled with murder and intrigue. Conniving father, unbelieving mother, being thrown into a mental hospital, and then James thrown in turning her into a vampire.  This is the stuff that keeps you wondering what's next.
2. Victoria and Heidi A Sisters Story
Are you saying, "wait, what?" Heidi and Victoria are sisters. The answer is yes, sort of. Victoria wasn't always with James. She started out in England in fact and eventually allied with a coven of women who she considered to be her sisters including Heidi. It all changed when Aro came upon their coven with ulterior motives and murder on his mind. 
3.  Charlotte Peter and Jasper
Who doesn't love a love story when the odds are stacked against them? Charlotte and Peter's story is about them breaking free of Maria's coven and livign their own life saving each other from a dark existance, and in turn actually saving Jasper by giving him hope.
4. Aro and his collection
Aro is the ultimate charming villain. He is a master manipulator. the hard part is picking what angle of his story to go with since he pretty much leaves a trail of bodies wherever he goes. The best bit though is probably the fact that he killed his own sister in order to order to control Marcus and keep him around as a shell of his former shelf.
5.  Kate and Garrett 
Kate and Garrett would be a great honeymooning couple sitcom type of story. She has problems with sticking with one guy and he's new to this whole vegetarian concept. Why not explore how each of them tries to stop the other from falling off the wagon (so to speak ) in their own way.
6. Renesmee, Jacob, and Nahuel
Let's talk vampire and hybrid love triangle, and let's make it messier because Renesmee's dad can read the two guys thoughts. It practically writes itself. 
UPDATE: Given the parameters of the project announced on November 11th, the last two ideas wouldn't work since all pitches have to take place in the universe BEFORE Bella and Edward met.