We have today's fansite quote for you!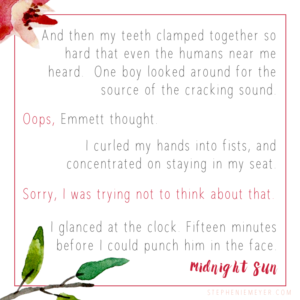 We're excited to see where this falls in the story! We've had access to the previously released 11 chapters of Midnight Sun and this quote doesn't fall in the material that was released. However, it obviously reads as a scene when Edward and Emmett are in class together. This leaves it to be a class time just before Edward and Bella go to the meadow on Saturday. 
Of course, the BIG question we have with this quote is… what did Emmett think about that upset Edward? My guess is that it's about not being able to really touch Bella. We will all see how it fits into the story on August 4!
We will discuss this and all the other 17 released quotes tonight on YouTube Live at 8EST. 
Thanks to Fickle Fish Films and TheNovl for sponsoring the fansite quotes this week!