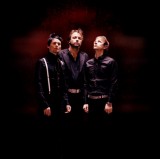 Back in the fall Muse stated that they were excited to work on the Eclipse soundtrack. Then, about a month ago in a Contact Music article it sounded like they didn't make the final cut. This frankly seemed odd to us just on the timing because the actors are still doing ADR work and frequently you don't deal in soundtrack until after the ADR work is practically done. So now Twilighters Anonymous is reporting that Muse is back in.  Here's the story according to Twilighters Anonymous.
"TA has a reporter who has been covering events down at the SXSW (South By Southwest) Festival in Austin, Texas all week. Well today that reporter happened to find themselves in conversation with informed sources from Chop Shop/Atlantic Records. The source has confirmed that Muse will indeed be on the Eclipse soundtrack."
You can see the whole story on Twilighters Anonymous.