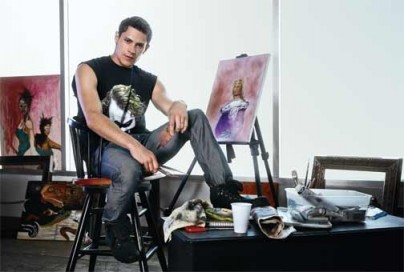 The entire staff here at the Lexicon has been enjoying Alex Meraz's artistic talent at conventions and we've even shared that with all of you many times.  So it's no surprise to us that other sources are finally picking up on his amazing abilities and featuring his work as not just the hot tempered member of the wolf pack, but as a real artist.  YRB Magazine has a supurb interview with Alex that details his beginnings with art, his inspirations, and those artists he most admires.
As Meraz finds his place in the industry, his art will never be far behind, as he continues to strive for a balance of all his creative interests at the start of a very chaotic Hollywood life. As a sort of millennial Renaissance man, he's completely devoted to all his passions and is now providing fans with prints of his work after getting numerous inquires on where they could get their hands on the wolf hottie's art. "My website has everything on it. There's a section where you can buy my art, check out some of my dance videos and just learn more about me."
Read the  whole story over at the YRB website.  And be sure to visit Alex Meraz's official website for more of his art and dance projects.