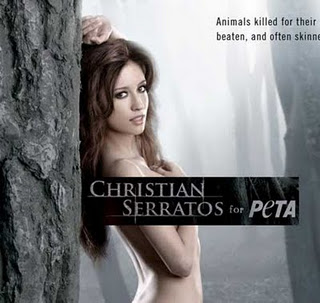 Christian Serratos who has worked with Peta before is joining another of their campaigns. This one stresses that there are alternatives to traditional dissection that are animal friendly. According to the press release.
Just in time for "Cut Out Dissection" Month, Twilight star Christian Serratos—known to Twihards as Bella's friend Angela—is the star of a brand-new video for peta2, the world's largest youth animal rights organization, in which she encourages students to skip animal dissection in favor of using high-tech, educational simulators. It's a subject that Serratos, currently appearing in American Horror Story, has been passionate about for years—back in her days on Nickelodeon's Ned's Declassified School Survival Guide, her character spent an episode campaigning for dissection alternatives in their school.
"These animals haven't donated their bodies to science, and they have the same ability to experience pain and fear as your companion animals at home," says Serratos in the video. "Studies have shown that students who use alternatives to dissection perform as well as—if not better than—students who dissect animals. If you're asked to participate in dissection in your school, ask your teacher for an alternative assignment."
Every year, more than 10 million animals are dissected in secondary school and college science classes. Most are obtained from biological supply houses. PETA obtained undercover video footage of one supply house in which terrified cats were forcibly herded into gas chambers. Other animals were injected with formaldehyde and left to writhe in agony. A number of animals who are used for dissection are taken from wild populations—a practice that wreaks havoc on local ecosystems—and others are purchased from animal shelters.
Serratos, who previously teamed up with peta2 for two anti-fur campaigns, is part of a long list of celebrities to join peta2 in speaking up for animals. Visitors to peta2.com can find interviews with all their favorite bands and celebrities—including Justin Bieber, Daniella Monet, Stephanie Pratt, Lea Michele, Sarah Hyland, Kellan Lutz, Matt Prokop, and Pink—and enter contests to win great prizes, such as iPods and concert tickets.