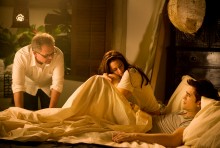 In the second Bill Condon interview to hit the web today, the director talks to HitFix about how impressed he was with Kristen Stewart, the score and themes of the film, and the changes the characters all go through.  Condon compared Breaking Dawn to the other three films in the saga as the film where the characters grow up.
" Y'know, I keep calling this 'Twilight grows up,' but in a way it is. All of the characters take tremendous steps in this story and that's part of what turned me on to the material, to collaborate with Kristen Stewart as she goes from being the Bella we know in the first three movies to being a bride, being someone who finally has sex, gets pregnant, gets sick, gives birth, dies, become a vampire, becomes a warrior?  Just think of that journey.  I guess for none of them it was just playing the same old thing.  Jacob becomes a man in this movie. He moves away from being the third leg in a triangle and breaks free of that and his background and his family and his pack and becomes his own person.  So, that was a journey all the actors were eager and open to collaborate on."
Condon also gives us a hint as to the conforntation scene in Breaking Dawn Part 2.
"As anyone who has read the novel knows, we end up in a big set piece with maybe 27 or 30 vampires on one sided aided by a dozen or so wolves against 80 vampires on the other side in this big confrontation.  It's mostly a discussion, but many dramatic beats within that.  And that was like staging a spectacle on a stage almost, because we shot that for a month and not even counting all the second unit stuff. The sense of spectacle and moving fluidly through that, I did feel like I was calling on my musical roots there."
Read the whole story over at HitFix.