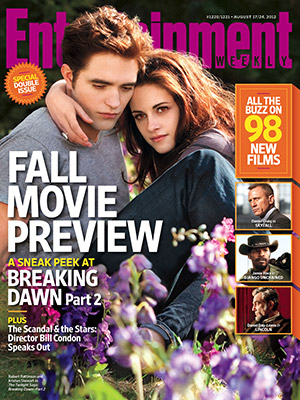 Breaking Dawn is on the cover of this week's EW. Bill Condon is quoted in a preview of what is to come in the issue:
"The fact is, these are actors playing parts, and maybe it's not such a bad thing that people be reminded of that," Bill Condon tells EW. "Both of these actors gave heart and soul to the Twilight movies, not only during shooting, but also by navigating so graciously the whole life-in-a-fishbowl aspect of the phenomenon. Above all they have always shown great respect for the fans who made these movies such a success. Now it's time that some of that respect be returned to them."
Check out EW and grab the issue this Friday on newsstands.
From our standpoint: Bravo, Mr. Condon, bravo. We are looking forward to the final chapter in a film we have been covering since 2008 and a book series we have been covering since 2006 when people said "What's Twilight?" and "Stephenie who?" We can't wait to see the final installment from actors, production team, and everyone who has given years to this.