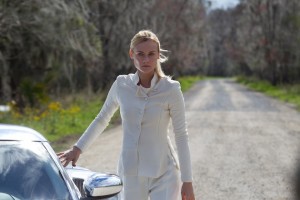 EW was just on the set of The Host movie and they have some insider details for us.
Fans of Stephenie Meyer's 600-plus-page novel have likely already gathered from the description above that film interpretation of The Seeker is almost the exact opposite of how she's described in the book. Instead of small, dark-haired, and clad mostly in black, the very blonde Kruger stands regally on some serious wedge heels, dressed in a futuristic cream-colored pant suit. It's a change designed by writer-director Andrew Niccol (Gattica, In Time) to reflect the "purity" of the egalitarian Souls, and Meyer told me on the set that she happily embraced it. Gattica is her favorite sci-fi film of all time.

As for the delightful Ronan, although she wasn't working that day, she came out to the set to speak with EW about the film, one day after the Oscar-nominated Irish actress turned 18. We'll have video of our interviews with her, Meyer, Kruger, and Irons in the coming months — the movie, which is still shooting, isn't hitting theaters until March 29, 2013, after all — but I can tell you how Ronan is differentiating the alien Wanderer from the internal voice of Melanie in the film. It's actually quite simple: The Wanderer speaks with a generic American accent, whereas Melanie's voice is inflected with a Louisiana twang, another Meyer-approved tweak from the book.
See more on EW