Around the country the Eclipse cast appeared at various Twilight night events sponsored by Summit and Moviefone. Usually in outdoor settings, you could watch Twilight and New Moon back-to-back for free. Here is some of that coverage.
A very blonde Justin Chon in Phoenix
San Diego featured Peter Facinelli and Christian Serratos with hosts Jenna Bush, Quddus, and Myriam from MSN Superfan.
Boston had Booboo Stewat and Tinsel Korey who braved flight cancellations to get there!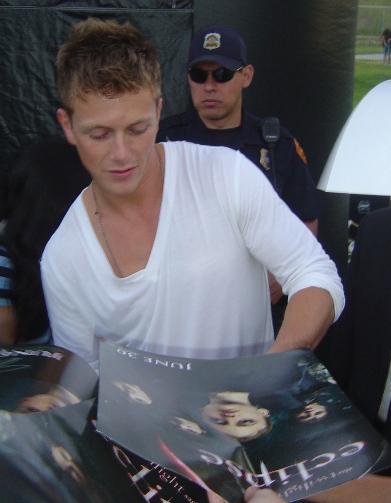 The Lexicon's own Nena Cullen was in Salt Lake City to see Charlie Bewley and Julia Jones. Nena writes, "So this was an impromptu- spur of the moment decision, to go down to the park hauling my 2 month old with me. When I got there I realized my camera didn't have a lot of charge, so I had to take  pictures with no flash to at least last me for a few pictures. As you well know, both Julia and Charley were awesome. They hugged and signed almost everybody there…only about 200-300 people showed up. It was at this huge park…they seemed to be having a great time.Summit gave some keychains, buttons, pens and make up, posters and some other stuff for free. Moviephone had a picture booth, popcorn stand, face painting stand and a twimom/Alex's lemonade stand. Movies started around 8pm.