This just in from Nordstrom: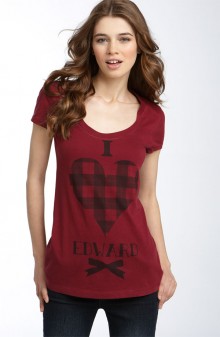 On June 26, 27 and 28, Nordstrom and Summit Entertainment invite Twilight fans to take advantage of a special opportunity to meet select cast members of The Twilight Saga: Eclipse at select Nordstrom stores.  The cast appearances are being held to celebrate the highly-anticipated June 30 release of the third movie in Summit's Twilight film saga.  Nordstrom launched an exclusive clothing and cosmetics collection inspired by the film in early June.
Beginning Saturday, June 19, at 8:00 a.m., customers can acquire VIP access to be one of 200 customers to take photographs with cast members (visit nordstrom.com/eclipse for specific details).
The Twilight Saga: Eclipse cast members will visit the following Nordstrom stores:
– Sat., Jun. 26: Elizabeth Reaser (Esme Cullen) and Nikki Reed (Rosalie Hale) at Nordstrom Downtown Seattle
– Sat., Jun. 26: Cameron Bright (Alec) at Nordstrom Downtown Portland (Ore.)
– Sat., Jun. 26: Jodelle Ferland (Bree) at Nordstrom NorthPark Center (Dallas)
– Sun., Jun. 27: Alex Meraz (Paul) at Nordstrom Montgomery Mall (Bethesda, Md.)
– Sun., Jun. 27: Justin Chon (Eric) at Nordstrom Stoneridge (Pleasanton, Calif.)
– Sun., Jun. 27: Tyson Houseman (Quil Ateara) at Nordstrom Fashion Valley (San Diego)
– Mon., Jun. 28: BooBoo Stewart (Seth) at Nordstrom Oakbrook Center (Oakbrook, Ill.)
The BP. department at select Nordstrom stores is offering customers advance movie screening passes as gifts with purchase (see nordstrom.com/eclipse for participating stores and details), and all stores will host Twilight styling parties on June 19 and 20.  Customers can visit nordstrom.com/eclipse to learn what events are taking place and sign-up for email alerts.
The fashion collection, created by Awake, Inc., reflects the style of two of the film's main characters, Bella and Alice, by combining pieces that include screened tees and hoodies, fashion tops, mini skirts, dresses, skinny jeans and cardigans.  Prices range from $30 T-shirts to $52 dresses to $58 for a pair of jeans.  Nordstrom is also selling exclusive life-size cutouts of characters, Edward, Bella, Jacob, and Alice.  In addition, Nordstrom offers customers Luna Twilight, a full cosmetics collection, including Twilight Lip Venom, which reflects the mood and spirit of the film.