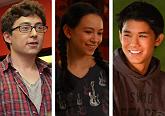 The Chicago Sun Times interviewed Jodelle Ferland, Boo Boo Stewart, and Tyson Houseman recently about being added to the cast for Eclipse.  (Even though Tyson was seen in New Moon, he didn't really get to be a part of the action until Eclipse.)  The Sun Times got target audience members to actually supply the questions.
Q. Have you read the whole Twilight series?
JODELLE: I've read all four of the books, and I absolutely love them. I really, really like Stephenie's writing.
TYSON: I read them all after I got the part.
BOOBOO: I thought I might get an audition for the film, so I started reading the books. … I wanted to go in extremely prepared, you know?
Read the whole interview here.