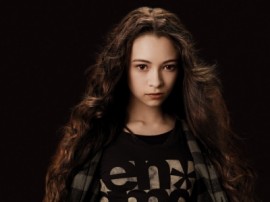 Just days before The Second Short Life of Bree tanner hits bookshelves, Dream Magazine has a new interview with Jodelle Ferland. She talks about her co-stars and the thrill of being cast in Eclipse. Read the whole interview here.
Q: Have you read the TWILIGHT SAGA books before you found out about ECLIPSE?
A: I think I was just finishing the BREAKING DAWN book when I got called for the Bree audition. I loved the series, it was absolutely fantastic. I'm a total bookworm, and I just can't put a book down once I start reading it. Especially a good book. So I didn't get much sleep while I was reading the TWILIGHT series. I can honestly read until 5 o'clock in the morning if I'm really into the book. Probably later, if I wasn't afraid that I'd fall asleep while eating breakfast.