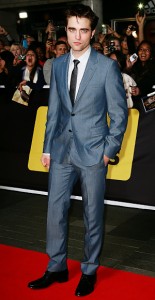 InStyle has listed their to 20 stylish men of 2011 and Robert Pattinson made their list.  They named his Guicci suit as part of the reason for the honor.  He's listed as number 5 after Ryan Gosslin, John Hamm, Zac Effron, and Ryan Reynolds.
They also have a fantastic look at all of Rob's hair styles over the last few years.  For those of you obsessed with the hair, this one is for you!
See the whole list of stylish men at InStyle and let us know if you feel they got  the list right by leaving us a comment!