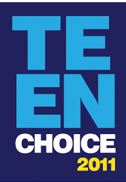 Here is the rundown of the 2011 Teen Choice Awards sponsored by the Fox Network. If you make the age requirements start voting daily!
Sci-Fi/Fantasy Movie: Twilight Saga: Eclipse
Sci-Fi/Fantasy Actor: Robert Pattinson and Taylor Lautner

Sci-Fi/Fantasy Actress: Kristen Stewart
Villian: Bryce Dallas Howard as Victoria
Male Scene Stealer: Kellan Lutz as Emmett

Female Scene Stealer: Ashley Greene as Alice
Also in the movies categories Cam Gigandet and Robert Pattinson are nominated in the dramatic actor category.
The are no Twilight specific nominations, but movie and Stephenie Meyer's playlist artists both appear.
Male Hottie: Robert Pattinson and Taylor Lautner