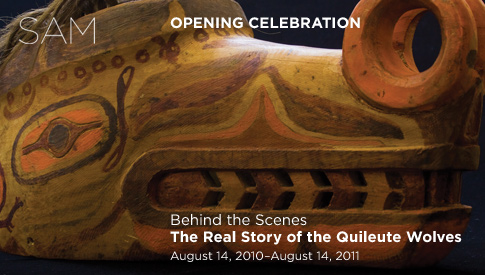 For the next year, there will be a display at the  Seattle Art Museum (SAM) featuring the Quileute Nation and the actual story of how the wolf relates to their tribe. According to their press release:
"Opening Celebration Event, August 14, 2010, 1-3 pm
Join us for a performance by the Quileute Nation Drum Circle, celebrating the opening of the exhibition Behind the Scenes: The Real Story of the Quileute Wolves. Organized in conjunction with the Quileute Nation, this exhibition brings together rare, never-before exhibited art works and creates a public forum for the Quileute people to introduce their culture beyond what is depicted in the Twilight books and films. The wolf plays a major role in the cultural beliefs of the Quileute Native Peoples of coastal Washington. According to oral traditions, the first Quileute people were changed from a pair of wolves into human form by the Transformer, Kwati. This creation legend is central to the Quileute world view, and wolf imagery can be viewed throughout the exhibition. "
For more information see the SAM site.