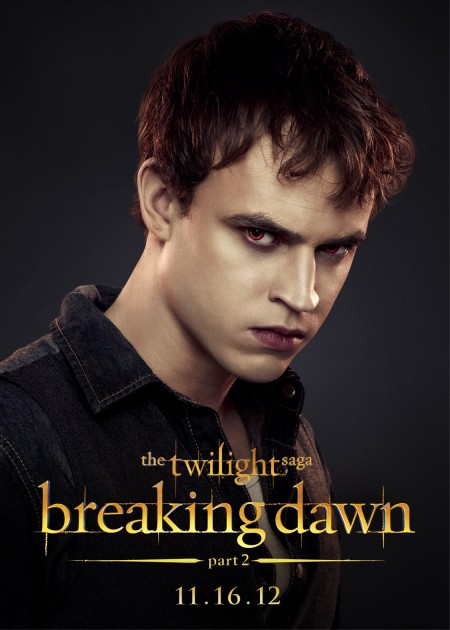 Get to know our next nomad, Peter.  If you need a refresher on his character, check out our character bio section.
Q: When you walked into Comic-Con [at the end of the Breaking Dawn – Part 2 cast panel], you got some of the biggest shouts out of all the newcomers. How did that feel?

Erik: It was unbelievable. The only thing I could say it compared to was the Part 1 premiere when I walked down the red carpet. It's just, you try to prepare yourself for it as much as you can, you know maybe the response will be big but maybe it won't, you try to be ready for everything … but when it hits you, your knees buckle. I mean my knees buckled. It's one of the craziest, craziest things. But the fanbase has always been so enthusiastic, so passionate. And I think part of it has always been a combination of people loving the character Peter and just also being on Twitter and being on Facebook and having fans reach out, just trying to interact as much as possible and including the fans as much as you can, you know. Because the fans are what make the fandom what it is.

Q: People love Peter, but they also love Peter with Charlotte. Their relationship's really special, and I know that that's something we hope to see on-screen, and I was wondering how far in advance did you meet Valorie [Curry], and you know make it into a rhythm with her and feel like you could portray that on-screen?

Erik:What was great about Valorie, even more so than a lot of the other vampires who I met once we went to Louisiana together, I actually – I didn't know her personally, but we had a lot of mutual friends in Los Angeles – so through the small world of Facebook, we were able to link up after the whole casting announcement came up, and we actually grabbed lunch before we even started filming, before we left. So, we went to a place in L.A., sat down for about two hours, and after the initial twenty minutes of 'Oh my God, I can't believe I'm a part of this; Oh my God I can't believe I'm a part of this!' After twenty minutes of us geeking out together about how cool it was, we really dug in and talked about Peter and Charlotte's relationship and their relationship to the other vampires. You know, because the covens are such an interesting thing, they call the nomads a coven but really it's Peter and Charlotte versus the world. You know, so we talked about really diving into the relationship, back to Maria [in Eclipse] and back to the newborn army and their relationship with Alice and Jasper, and it was just nice that by the time we got to Louisiana together, we already had the seeds of this relationship planted, you know? It was really nice. I love Valorie.
See more on Twilight Examiner
You can catch our red carpet interview with Erik below.