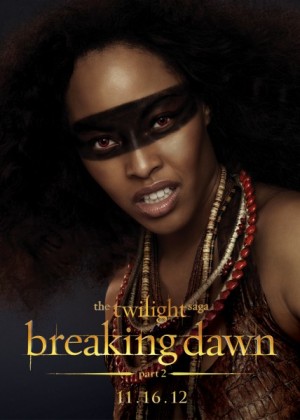 Tracey Heggins plays Senna of the Amazon coven in Breaking Dawn Part 2. The Twilight fan sites had a chance to chat with her about her new role.
Tracey: Hi! How are you guys? Great! I am excited to talk to you guys!

Q: We just saw the posters of you and Zafrina. The other actors have talked about what they first thought when they saw themselves. What was your first reaction when you saw the hair and the make up, and the outfit and the eyes?

Tracey: Roar! (sound) That is exactly what I thought! Whoa! This has an earthy, sexy quality to it, so I was all for it. It's very exciting!

Q: Speaking of what you look like… You are baring a lot in your outfit. I'm wondering if you had to diet or work out? What was your regiment? Tracey: Yeah! I have to work out. I'm a hippy girl… I have hips and curves. Literally, when I had the fitting, I had a King Size Snicker bar in my purse. After I had seen the outfit, on my way out, I dropped it into the trash can. (Laughing) I was, like, Oh, no, no, no, no! But yeah, I do a lot of yoga. And, on set it was easy to be disciplined because Kellan Lutz is up there working out all day long, and the rest of them were fighting to get to the gym before shoot time. So, you know, it was a lot of camaraderie at the gym because we were all on camera.
See the rest on Twilight series Theories.
Last week we also interviewed Tracey's fellow coven member Judi Shekoni who plays Zafrina.
Remember, you can always refresh your memory about new coven members by looking at our characters bios section. You can find Senna's bio here and Zafrina's bio here.