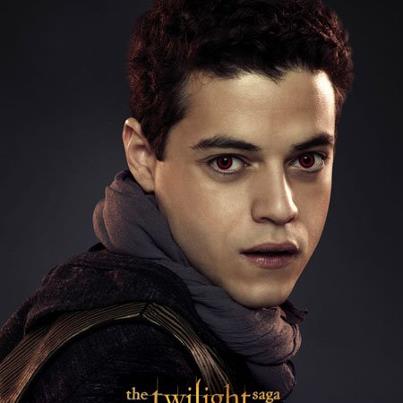 As part of our ongoing New Face Friday series the Twilight fansites had a chance to interview Rami Malek who plays Benjamin of the Egyptian coven. If you need a refresher on that character, check him out in our character bios.
Have you gotten to see any of your scenes on film yet- and if so what you thought  of the special effects?

"Great question I had an ADR* session, I'm sure you guys are familiar with that right?? (ADR stands for Automated Dialog Replacement, it's where they clean up poor quality sound in the editing room)  So I got to see some of the temporary effects they weren't quite done but as far as I was concerned they were good enough for me- they really looked brilliant-vibrant and felt very real- I was happy to see that because there were points that I was concerned about- I'm always concerned watching a movie- when something looks as if it was developed from a computer and you can see when it looks generated by a computer it really takes one out of the film so I was happy to see that it really just looks as if I was doing these in reality"

Stephenine has recently released the "The Twilight Saga: The Official Illustrated Guide" which had a huge backstory between the Egyptian coven and I know we've already sampled a little bit of what we are going to see from you-did we get any of that feud with the Volturi history from you guys?

"Well after reading the novel I came to the conclusion that there was going to be a lot of work I had to do because there wasn't that much said in her novel- so I came up with a lot of ideas and Angela who plays Tia came up with a lot of ideas and we shared them over the course of filming- and when we met Stephenie she was able to give us a real concrete backstory which wasn't far off from the things that we had created on our own. It was a very special feeling to have that acknowledgement from her that we were on the right track with her story from things that we were coming up with from our own crazy imagination"
See the rest on Twilight Moms.