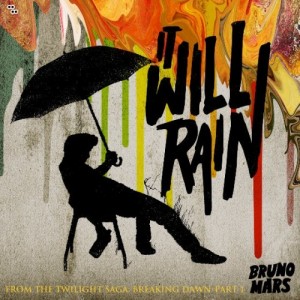 Remember how Bruno Mars was supposed to have debuted his new Breaking Dawn soundtrack video on MTV awhile back and it got postponed last second. Well, now it is back. From MTV:
MTV is set to exclusively premiere Grammy-award winning singer, songwriter, producer and multi-platinum selling artist Bruno Mars' new music video "It Will Rain," the first single from THE TWILIGHT SAGA: BREAKING DAWN – PART 1 soundtrack that features a never-before-seen clip from the film, on Wednesday, November 9th at 7:56pm ET.
Immediately following at 8:00pm ET, "It Will Rain" will premiere on MTV.com, MTV Hits and mtvU, and go into rotation the following morning during AMTV.
Co-written and produced with the Smeezingtons (Mars, Philip Lawrence and Ari Levine), "It Will Rain" is currently available for sale exclusively via iTunes. THE TWILIGHT SAGA: BREAKING DAWN – PART 1 soundtrack will be released on November 8, 2011.
Bruno Mars is a multitalented singer, songwriter, producer and musician. After co-producing and performing on two of last summer's biggest hits (B.o.B's "Nothin' On You" and Travie McCoy's "Billionaire",) Mars' first solo single "Just the Way You Are," hit number 1 in multiple countries across the world and won the critically-acclaimed artist a Grammy Award for "Best Male Pop Vocal Performance." Bruno's 2x Platinum-certified debut album Doo-Wops & Hooligans went on to claim two additional hit singles "Grenade" and "The Lazy Song." Mars has now sold over 15 million singles worldwide and is touring internationally. For more information, visit http://www.brunomars.com.
MTV News is the authority for music, movies and pop culture news for the Millennial audience, producing a diverse mix of daily news stories, insider specials, weekly series, live red carpet shows, exclusive music video and movie premieres, as well as exclusive artist and celebrity interviews on-air, online, via mobile and across social media.
The next chapter of THE TWILIGHT SAGA will be released as two separate films with the first of the two – THE TWILIGHT SAGA: BREAKING DAWN – PART 1 – slated to be released in theatres on November 18, 2011 and the second coming to theatres on November 16, 2012.  Academy Award® winner Bill Condon directed both films starring Kristen Stewart, Robert Pattinson and Taylor Lautner.  In THE TWILIGHT SAGA: BREAKING DAWN – PART 1, Bella (Stewart) and Edward (Pattinson), plus those they love, must deal with the chain of consequences brought on by a marriage and honeymoon, and the tumultuous birth of a child… which brings an unforeseen and shocking development for Jacob Black (Lautner).  With more of the romance, passion, intrigue and action that made TWILIGHT, THE TWILIGHT SAGA: NEW MOON and THE TWILIGHT SAGA: ECLIPSE worldwide blockbusters, THE TWILIGHT SAGA: BREAKING DAWN – PART 1, based on Stephenie Meyer's bestselling book series, begins the conclusion of the tale of vampire love, boundless friendship, acceptance, and finding your true self.  The project, based on the fourth novel in author Stephenie Meyer's Twilight series, is written by Melissa Rosenberg with Wyck Godfrey, Karen Rosenfelt and Stephenie Meyer producing.
The soundtrack for THE TWILIGHT SAGA: BREAKING DAWN – PART 1 ORIGINAL MOTION PICTURE SOUNDTRACK will be released on November 8, 2011. In addition to Bruno Mars' "It Will Rain," THE TWILIGHT SAGA: BREAKING DAWN – PART 1 ORIGINAL MOTION PICTURE SOUNDTRACK features new tracks from an extraordinary array of artists, including Christina Perri, The Joy Formidable, The Belle Brigade, Theophilus London, and Mia Maestro.  Iron & Wine, who were featured on TWILIGHT – ORIGINAL MOTION PICTURE SOUNDTRACK, return with a newly recorded version of their song "Flightless Bird, American Mouth."