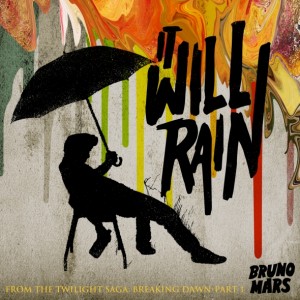 As fans wait with baited breath for Sept 26 and the full list of songs on the Breaking Dawn part 1 soundtrack, Billboard.com wets our appetite even more with a taste of what Bruno Mars will contribute.  "It Will Rain," the first single from the album, will be released on Sept 27, and fans should prepare for something darker and heavier than a traditional love song.
Mars says that "the 'Twilight' movies for me (are) a love story. But it's a dark love story. And I think the best way to describe the song is: it's the darker side of love. I think that pretty much sums it up."
"It Will Rain" "started off with me and the guitar," Mars says, "and I just had this melody in my head and basically laid it down after I saw the film."
When asked if he would be interested in working with Robert Pattenson on a song, Mars said "Why not?  I'm down for anyone that wants to work and thinks I can contribute."
But the all important Twilight question is, of course, is he Team Edward or Team Jacob?  Mars joked,  "You know what? I'm Team Bella all day."
Read the whole story at Billboard.com.