Search Results for: dvd
Taylor Lautner in a Breaking Dawn DVD OutTake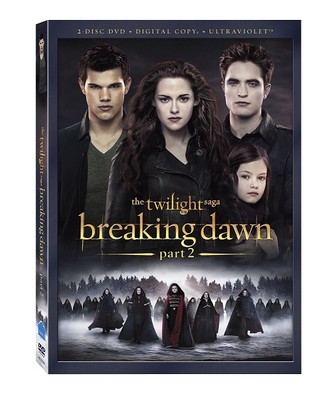 Not sure which version of the Breaking Dawn DVD and BluRay you want. Well check out this handy buyer's guide over at Twilight Examiner and you'll be able to figure out what to get come March 2!
Don't forget to preorder your DVD today!
Check out this great clip from the upcoming DVD.
For full details in the product. Check out the article from our friends over at Hypable. It specifically details the product at Target.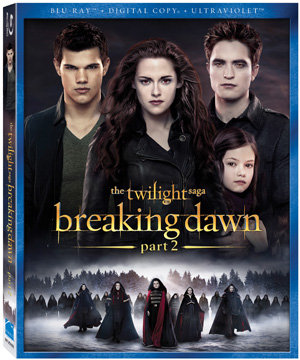 The rumors have been circulating and today we have confirmation: Breaking Dawn Part 2 will be available on DVD and Blu-Ray on Saturday March 2. Included will be an audio commentary provided by Bill Condon.   There will also be a seven part behind the scenes documentary with even more new footage and interviews. For more information, visit Yahoo!Movies.
In speaking to MTV, Nikki Reed talked about the dog bowl scene that didn't make it into Breaking Dawn Part1. Maybe it will make the DVD of part 2 or a box set special down the road?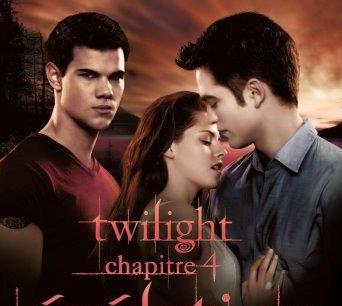 Twilight Belgium tipped us off to this one. They have information that there is a special French edition of the Breaking Dawn DVD coming in November.
Breaking Dawn Part 1 special edition is coming! It will be released on November 7 at a price of 49.99 Euros

This edition will include:

* Collector's Edition film
+ A third DVD with over 2 HOURS of bonus unreleased footage
* An extra SURPRISE!
All packaged in a collectors edition box
We then went to the official French Twilight Facebook page where they had more info that not only backed up what Twilight Belgium stated but had the following extra details.
Robert Pattinson and Ashley Greene: fan meeting in Paris
All scenes of Edward
All scenes of Jacob
video clips
Behind the scenes of marriage
The fate of Jacob
Exclusive: Interview with Ashley Greene
So if the French are getting a special edition, can a USA edition be far behind?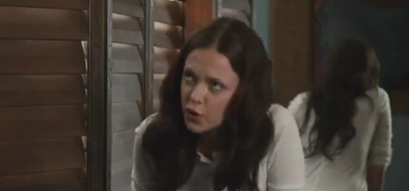 So this is just an interesting tale in light of the fact that Lionsgate now merged with Summit. Apparently Lionsgate is the studio behind this Breaking Wind parody, something that admittedly escaped our notice up until now, and would have continued to escape our notice if Twilight Quebec hadn't tipped us off. In fairness to Lionsgate they started this project before the Summit merger, and it probably seemed like a perfectly harmless idea at the time. There's just supreme level of irony that Lionsgate is now the studio behind the movie, and the most offensive parody of Twilight that we've ever seen.
This is the description of Breaking Wind obtained from Moviehole who had the exclusive Moviehole
Writer/director Craig Moss, best known for the recent spoof "The 41-Year-Old Virgin Who Knocked Up Sarah Marshall and Felt Superbad About It", is sharpening his fangs, flipping up his black collar, ready to sink his teeth into a "Twilight" pisstake.

A film Moss planned to shoot back in the Summer of 2010, then known as "Fully Mooned", has been set from pause to play. Only now, it's got a new title. And a home.

Moss is directing "Breaking Wind", a fun-poke at the hugely successful young teen movie series, for Stonebrook ("Pennhurst", "Open House"). The title is of course taking the mickey itself; the latest "Twilight" flick is "Breaking Dawn", released in November….The script for this one, penned by Moss, tells of a young woman named Stella who is forced to choose between "egocentric" vampire Edward and "horny" werewolf Jacob. Whichever boy can satisfying Stella's more intimate needs gets the gig. Expect plenty of jokes that won't be suitable for the younger of Taylor Lautner's fans…"
Let's back up to August when we first heard rumbling of a new Twilight parody. It seemed an odd project to us in that Vampires Suck (another parody) had recently come out, and it wasn't a huge success. Fans who saw Vampires Suck thought it had some funny moments, but a lot of it was predictable. So we waited until we learned more.
Next, let's jump ahead to December when a teaser was released and it was clear that this spoof was very R-Rated, and filled with humor that made The Hangover look like high-brow comedy. One of our commentators(who happens to be a straight male) said at the time, "I do have problems with bad parodies, and this has lame written all over it. Bathroom humor was funny when I was 13, but I'd much rather see intelligent parodies versus something that is just blantanty stupid…" Many, many of our readers (who do enjoy a parody suck as Vampire's Suck, Jimmy Fallon in the tree, Hillywood, and others) were offended by the brief clip.
So today our friends over at Twilight Quebec tipped us off the the full trailer is out and the film (probably completely unsurprisingly) is going direct to DVD. The trailer is absolutely R-Rated (in fact it's the first time I can ever recall seeing a trailer that is rated R) with graphic language and sexual suggestiveness. It would not be considered "work safe" at my place of business or at most educational institutions, so please be advised before playing the video if you so choose.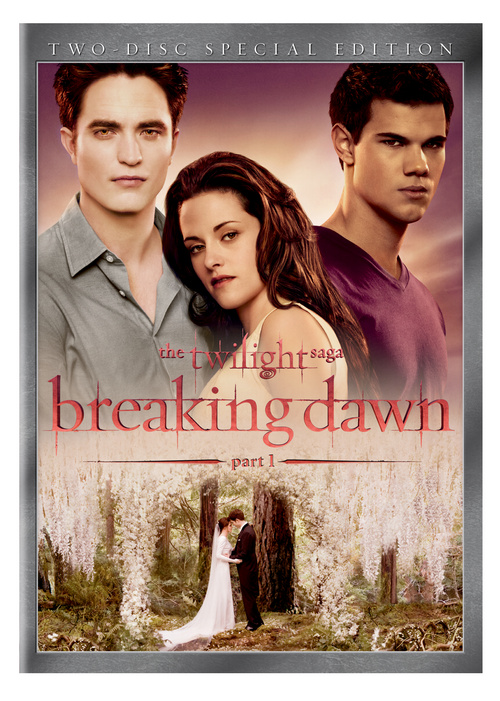 According to the Lionsgate press release:
Summit Entertainment, a LIONSGATE® company, announced today that the home entertainment release of the current installment in the studio's blockbuster TWILIGHT SAGA film franchise, THE TWILIGHT SAGA: BREAKING DAWN – PART 1, has sold over 5 million DVD and Blu-ray units in the first 11 days of release. DVD sales for the film, which became available at retail on February 11th, are approximately 13% ahead of sales of the third film in the franchise, THE TWILIGHT SAGA: ECLIPSE, at the same point in its release. Digital sales of THE TWILIGHT SAGA: BREAKING DAWN – PART 1 are also strong with over 74,000 electronic sell through transactions (53% ahead of THE TWILIGHT SAGA: ECLIPSE at the same time) and over 175,000 video on demand transactions (162% ahead of THE TWILIGHT SAGA: ECLIPSE at the same time).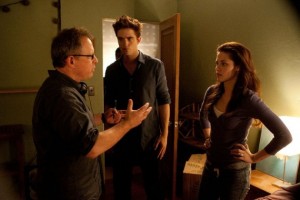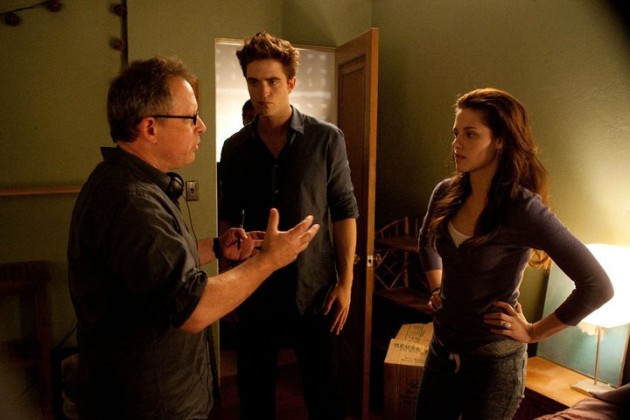 The Male TwiHard has chimed in with his opinion about the Breaking Dawn Part 1 DVD:
I was looking forward to Condon's commentary, because he got short-changed during his panel discussion at the Twilight Convention, when he was onstage with KStew, RPattz and Lautner. And the native New Yorker doesn't disappoint.

Right out of the gate, he talks about how the film didn't originally begin with Jacob receiving the invite to Bella and Edward's wedding and running angrily off into the pouring rain. The first scene was Aro receiving the invitation, right after the Volturi have massacred 50 people. It was supposed to remind the audience of the looming threat of the vampire elite, but was cut because Condon felt "Part 1" is more about Bella's struggle inside than the outside threats. Luckily, Condon also says that scene will show up on an extended cut at some point.

Condon is intelligent and gives a number of great insights — way too many to note here — but I will tell you that he says the original sex scene between Bella and Edward was more graphic. Unfortunately, the MPAA threatened an R rating unless it was scaled back, so we got what we got. And, there is no Bella nipple. I was wrong before. Trust me, I checked a few times.
See more on the Male TwiHard's Column.