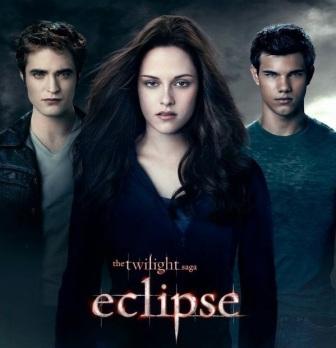 We were lucky enough to get an advanced listen to the Eclipse Soundtrack and let me first start by saying that is in my humble opinion the best of the three.  I know that is a big statement to make but this music is incredible. There is a very clear vibe to the soundtrack and it fits with that of Eclipse.  Shelley (something blue) and I (Jen/be my escape) both reviewed the soundtrack and have created a favorite's list.  Essentially we each chose the songs we liked the most to talk about in detail.
Jen's Choices
Heavy in Your Arms– Florence + The Machine– This is my absolute favorite song! The music, the lyrics, everything about it is just perfection.  From the heavy drum and piano beats to the haunting voice of Florence Welch this song is intense and IMHO a fantastic Bella song.  The lyrics just speak to Bella and what she is going through in Eclipse. I have absolutely no idea if it is a Bella song but to me it is.  Listen to the second verse when you get it and let me know what you think! If you want to get a feel for the sound of the song check out Cosmic Love, so good.
My Love– Sia– Strings and piano, two of my favorite things, comprise the back drop for this beautiful song.  I know Twilighters have been a fan of Sia for long time and they will not be disappointed.  This song has a similar feel to Breathe Me but with a completely different meaning. Sia's soulful voice brings the emotion of Eclipse to life.
Ours– The Bravery– This is the epitome of a graduation song or for some reason it reminds me of the song that would play over the credits of a movie, either way it is fantastic.  I loved the tempo of the song
Shelley's Choices
Fanfarlo's Atlas is a fun and light song that reminds me a little bit of Shooting the Moon by Ok Go on the New Moon soundtrack. This song seems like the best fit for a more light hearted scene in the movie.
Eastern Conference Champions' A Million Miles An Hour has darker tones as well, but with a more bluesy tone to the voice. I could definitely see this as a dangerous newborn tune.
The Black Keys Chop and Change is funky and a little creepy, kind of a funk mix. It just struck me upon my second listening that this must be a Rosalie after-the-change song. I really hope so! It certainly has that bad girl vibe. I love this song. (I loved this one too!)
Overall the Soundtrack is amazing and I can't wait to see where all the music fits. Don't forget for today only you can listen to the Eclipse Soundtrack check it out and tell us what you think. Which is your Favorite song??