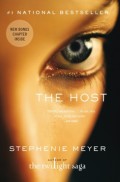 According to Variety:
"Inferno Entertainment has nearly pre-sold all international territories for Stephenie Meyer's pic "The Host," one of the hot titles at this year's Cannes market.
Pic, helmed by Andrew Niccol (who also adapted the screenplay of Meyer's tome), is produced by Paula Mae Schwartz, Steve Schwartz, Nick Wechsler and Meyer while Inferno's Marc Butan, Jim Seibel and Bill Johnson are exec-producers. Roger Schwartz serves as co-producer.
Producers are financing the pic with Inferno, which kicked off sales with a bang in Cannes last week. Meyer descended upon the Croisette to meet with buyers. The efforts proved worthwhile as pic had bidding wars in multiple territories all keen to get their hands on the next project from the woman behind the "Twilight" cash cow.
Pic is eyeing a January start date."