The Twilight cast have roughly a week's worth of filming left in Baton Rogue (barring any unforeseen delays). They are then heading up to Vancouver (as the Vancouver Sun reports)where they will be filming what is assumed to be mostly exterior work. (photo via Twifans)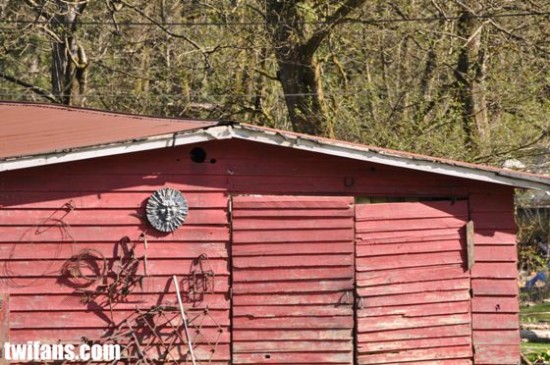 Both the Bella's House location and the Jacob's House location are anticipated. Fans however shouldn't bank on being able to actually see any filming though. The Bella's house location is in the middle of a long roadway with deep woods flanking it on all sides. The production in the past has blocked access on filming days. Though, the house is easy enough to see when there isn't filming.
The same is essentially true with the Jacob's house location. Instead of it being in the middle of a roadway, it's a corner property. However, the barriers (in the past) have been such that no one was really able to see anything. The only exception were photographers who managed to snag a cherry picker. During the Eclipse shoot they were lifted just high enough to get an obstructed view of the wolfpack in bathrobes between takes. That incident actually freaked Bronson Pelletier out as he explained at one of the Creation Entertainment Twilight Conventions. The photographers were using laser devices to presumably judge the distance of their shots. Well, imagine the reaction when a small red dot from a beam of light landed on Bronson's chest. Though harmless, the high-tech, laser sighting looks exactly like the rifle scopes portrayed in movies.
We've reported before on how there has been essentially no news or photographs coming out of Baton Rogue. With a corp of entertainment photographers, paparazzi, and press based in Vancouver, this will likely change. Baton Rogue has been very, very laid back. Almost unbelievably, the cast has been out numerous times to clubs/dinner without a bevvy of followers, lookers-on, press, etc. They have come in and out of the airport, tweeted departure times, and almost no one has gotten an airport photo.
It's a different culture in Vancouver, they've had a thriving movie and TV industry for years, there is a large base of tipsters, photogs, etc based there 24/7. Count on a series of airport arrival shots, and that's just for starters. With apologies to the Wizard of OZ, we have a message for the new cast members heading north "Welcome to Vancouver new vampires, you're not in Kansas anymore!"