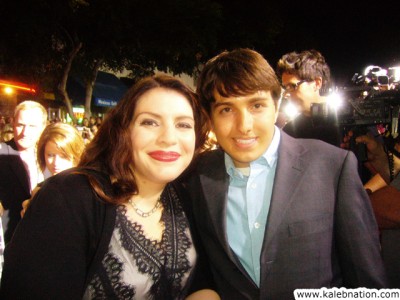 Many Lexicon readers are familiar with Kaleb Nation, AKA "The Twilight Guy". Kaleb caught Stephenie Meyer's and our attention back before the first Twilight movie came out with his Twilight Guy blog where he covered Twilight chapter by chapter from a guy's perspective.
In the time since then, Kaleb has been a web personality with his own popular YouTube channel, an author, and he's still a devoted Twilight Fan covering various events. Well now he can add something else:

According to Hypable , who got the scoop on this news, "Mark Morgan ("The Twilight Saga"), NYT bestselling author Kami Garcia ("The Beautiful Creatures Series" & "Unbreakable"), Michael Pollack ("Black Forest") and Brett Hudson ("Cloud 9") are giving the YouTube Generation its first reality show, KALEB'S NATION, starring YouTube personality Kaleb Nation. Nation will also produce, and Hudson will direct.
The show will follow Kaleb Nation, as he develops the parodies, music videos, and pop culture commentary that have garnered over 28 million views on his YouTube channel, while throwing Nation into a totally new arena—Hollywood. Celebrities and other YouTube personalities will guest star, while Nation experiences a behind the scenes look at what it takes to make it on, and off, the red carpet. The producers are keeping the details under lock and key, but we were able to get a few comments.
According to Kami Garcia, "Anyone who watches Kaleb's videos will immediately see the potential of the show, and I'm excited to be part of it." Mark Morgan added, "I find Kaleb to be a fascinating and highly entertaining piece of talent. This is more than a TV show. Kaleb is a brand in and unto himself, and I am happy to be working with someone who has his finger on the pulse of current pop culture."
See more at Hypable.
On behalf of the staff of the Twilight Lexicon, we'd like to say congratulations to Kaleb.