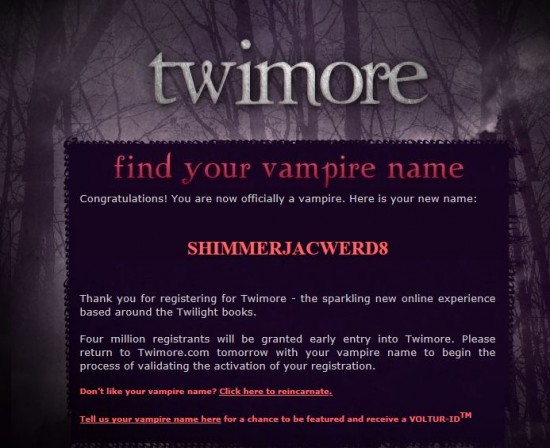 We posted the other day about Kaleb Nation's spoof called Twimore. Well his video is really going viral with all sorts of folks chiming in, some not realizing (from both the Potter and Twilight camps) it's a parody because they didn't read the info under the video.
He also has a spoof website to go along with it that just added a feature (look in the upper right corner)to "Find Your Vampire Name". I just got SHIMMERJACWERD8 for mine. It's become so popular he had to buy more bandwith. Make sure you check out the video below AND the website (sorry Kaleb on the bandwith).
As we write this post the video's public hit count is a 85,999. Pretty amazing for something uploaded 3 days ago!
Follow Kaleb on Twitter @KalebNation