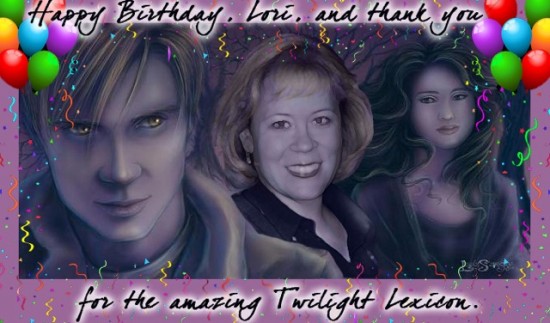 Hi, it's Laura. Yesterday was Lori (Alphie's) birthday. I totally forgot what day it was. My body clock and date skills are a little off right now.
As most of you probably know, Lori is the founder of The Twilight Lexicon. If she hadn't read Twilight in December 2005 and had it "eat my brain" there would be no Twilight Lexicon. It's thanks to her that the site was up and running as of March 2006 with many of the features that you see today. She's the person who is the master of the Lexicon's much quoted timeline, personal correspondences, and many of the character bios. Not to mention she's proofread and edited and put in the links on just about every chapter summary. So if you can find background information and cross referencing it's all her. Her brain works for trivia better than mine ever will.
So please if you enjoy coming here wish her a happy birthday in the comments below.
HAPPY BIRTHDAY LORI!