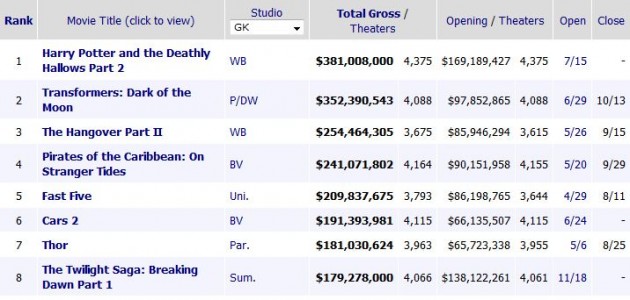 Chart via Box Office Mojo
In in its entire theatrical run, Twilight didn't get to the 200 million mark. In fairness it's a mark that few movies, even franchise movies, ever obtain. Breaking Dawn is on course to manage this feat in 8 or 9 days after its release. If it manages it in 8 days it ties New Moon. If it manages it in 9 days it ties Eclipse.
From there it is a race to see if it can grab the highly elusive 300 million mark that few movies ever reach. Eclipse managed to reach this mark; however, it was released in IMAX which commands higher ticket prices. In case you are wondering why Breaking Dawn isn't in IMAX it's because the Happy Feet 3D movie is using all of those screens.
Regardless, Breaking Dawn is going to easily be a top ten movie this year even considering the upcoming Christmas release films. It may even be able to grab a top five spot.
Numbers right now will be estimates until Monday. Going by previous franchise history, the actual numbers should be slightly higher.