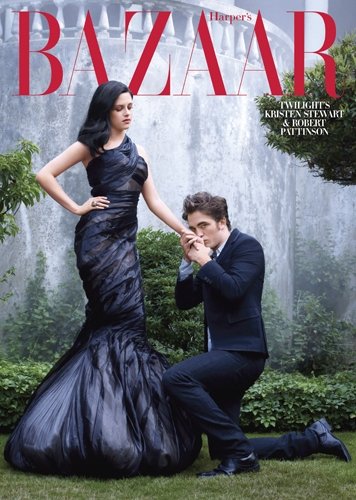 According to Folio Magazine:
"The American Society of Magazine Editors announced here today that the December 2009 issue of Harper's Bazaar, which featured the lead actors from the Twilight movie franchise, was named 2010 Cover of the Year. The announcement was made by ASME president and People magazine managing editor Larry Hackett at the MPA's American Magazine Conference.
The winning cover was chosen again this year by Amazon.com customers. The Harper's Bazaar cover [pictured] beat out 11 other category winners for the top recognition (the issue won the "Best Vampire" category previously)."
The full list of winner and the runner's ups can be seen here.
The cover previously competed and won in the vampire category against covers such as Robert Pattinson's between legs infamous Details covershoot and his smoldering Vanity Fair cover shoot; Entertainment Weekly's New Moon trio featuring Robert Pattinson, Taylor Lautner, and Kristen Stewart;  People Magazine's New Moon Robert Pattinson and Kristen Stewart debut shot. The only non-Twilight related cover was one from Halloween Magazine.
Via Rpattz News