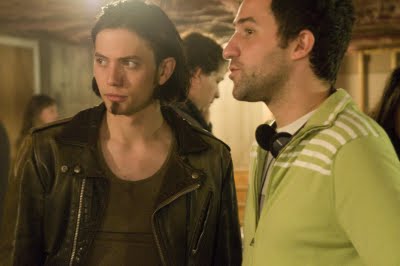 Lexicon Reader Dayna had the opportunity to interview Justin Lerner(pictured left with Jackson Rathbone), the director of Girlfriend. Here Justin talks about the movie making process, working with Jackson and more. Remember that the movie is currently raising funds for a theatrical release.
I had the pleasure of meeting Writer/Director/ Producer, Justin Lerner at this past year's Toronto International Film Festival when he took his film GIRLFRIEND starring Twilight's Jackson Rathbone, Raising Hope's Shannon Woodward and the extremely talented actor Evan Snieder, who has made his first starring role in a feature length movie, to the festival in September 2010.
When I returned from Tiff there were plenty of movies that came home with me, for a short time. GIRLFRIEND was not one that stuck around for just a short time though. We are now in March, 2011 and it's been six months since I last sat in the theater to see it.
This Quote from Jane Schoettle, programmer of Toronto International Film Festival sums it up for me and tons of others, " GIRLFRIEND is warm, sharp, funny, complex… I saw it four months ago and it's still under my skin."
Indie Film Review – Larry Richman had this to say about GIRLFRIEND"This movie about (and starring) a young man with Down's Syndrome has some scenes which may make audiences uncomfortable but, to me, that's one of the definitions of true art –it moves you, makes you happy, sad, angry — it affects you emotionally on a deeply personal level. Girlfriend can be hard to watch at times but is one of those films that deserves the label "important."
With all these great reviews, it was an honor to have the opportunity to ask Justin some of the questions that have been swimming around in the heads of myself and my friends. [Read more…]