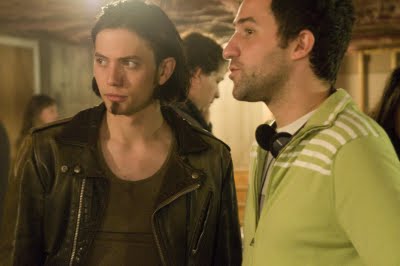 Lexicon Reader Dayna had the opportunity to interview Justin Lerner(pictured left with Jackson Rathbone), the director of Girlfriend. Here Justin talks about the movie making process, working with Jackson and more. Remember that the movie is currently raising funds for a theatrical release.
I had the pleasure of meeting Writer/Director/ Producer, Justin Lerner at this past year's Toronto International Film Festival when he took his film GIRLFRIEND starring Twilight's Jackson Rathbone, Raising Hope's Shannon Woodward and the extremely talented actor Evan Snieder, who has made his first starring role in a feature length movie, to the festival in September 2010.
When I returned from Tiff there were plenty of movies that came home with me, for a short time. GIRLFRIEND was not one that stuck around for just a short time though. We are now in March, 2011 and it's been six months since I last sat in the theater to see it.
This Quote from Jane Schoettle, programmer of Toronto International Film Festival sums it up for me and tons of others, " GIRLFRIEND is warm, sharp, funny, complex… I saw it four months ago and it's still under my skin."
Indie Film Review – Larry Richman had this to say about GIRLFRIEND"This movie about (and starring) a young man with Down's Syndrome has some scenes which may make audiences uncomfortable but, to me, that's one of the definitions of true art –it moves you, makes you happy, sad, angry — it affects you emotionally on a deeply personal level. Girlfriend can be hard to watch at times but is one of those films that deserves the label "important."
With all these great reviews, it was an honor to have the opportunity to ask Justin some of the questions that have been swimming around in the heads of myself and my friends.
Dayna – Where did you get the idea for The Replacement Child ?

Justin Lerner – I read an article about a California couple who let their infant child die from a treatable illness, because their religion didn't allow medical intervention. It really disturbed me. Then I drove around my hometown of Wayland, Mass, where we also shot GIRLFRIEND, and built a story that would take place in my town around that same premise, in which a character would be faced with stopping a family from doing the same thing to their child.
D – What was the best part of working on the film Girlfriend?
JL – There's never just one best thing. The best part is getting to write and direct
a feature film. One great part was having the honor of collaborating with so many talented actors, crew members, and friends.
D – Knowing how close you and Evan are, did this cause any difficulty in directing him?
JL – Yes and no. "Yes" because knowing each other for fifteen years made us more
comfortable around each other, so when tensions ran high we would both find ourselves sometimes getting snappy, because we were so comfortable with each other. "No" because there was a foundation of trust between us that had been established over many years that really helped us get through some of the more difficult scenes.

D – What was it like working with Jackson Rathbone?
JL – Jackson is a true professional. He was a pleasure to work with. Not only did
he always hear me out about what I needed from each scene, but he usually would bring three or four extra things to his character that I hadn't thought about. Most of the time I'd take his suggestions, but even if I didn't, Jackson took the time to understand why – this shows how much he respected both my vision and the creative process. He's also a lot of fun to have on set. The day he arrived, there was
a palpable rise in the collective energy and spirit of the cast and crew.
D – Jackson was filming Twilight at the time, how difficult was it to work around his
shooting schedule for that?
JL – Scheduling Jackson's shooting days was really the only difficulty we had with him. There were days where he would fly in on a red eye flight, land in Boston, put his costume on in the car, arrive on set and, without any sleep, he would shoot a full day for us. His energy was amazing. It was really tiring, mostly for him, but that's how dedicated he was to our film. Never knowing how long we would have him, we would just shoot, and keep shooting.

D – How did Shannon Woodward become involved with Girlfriend?
JL – Our casting director, Brad Gilmore, was the one who initially called Shannon in to read for the role. Every single member of our team was thoroughly impressed with her. She brought such a complex inner life to the role. She's great.
D – We know that you and producer/actor/composer Jerad Anderson met at Sundance, how did he and his company Wayne/Lauren Film Company come to be involved with Girlfriend?
JL – My short film THE REPLACEMENT CHILD screened at the Windrider Forum during Sundance, and Jerad and his wife really loved Evan in it (he plays a very small role). They approached me about writing something feature length for Evan, and so two months later when I had a first draft of GIRLFRIEND, they were the first people I showed it to.
D – How do you feel now that Girlfriend has been made and do you think you would have done anything differently in the making of or the process after?
JL – Since we all change over time, we will always look back at our older work and know that we may want to do something differently now. But I'm a firm believer that once something has been completed, it shouldn't be altered because, for better or worse, it is a document of the way we saw the world during that brief, intense time when it was being made.
D – On Girlfriend you were able to snag award winning actress Amanda Plummer, what was it like to work with such an established actress?
JL – It was a humbling experience. And an honor. She's such a legend to me and I
grew up watching her films. I learned so much from working with Amanda.

D – Is there an actor that you would love to work with?
JL – There are way too many. Isabelle Huppert comes to mind. Michael Fassbender. Adam Scott. Catherine Deneuve.
D – Book and film adaptations are very popular at the moment, is there a story that you would like to tell/retell?
JL – There's a book by Phillip Roth called "The Counterlife" that I think would be, if done the right way, one of the coolest films ever. But I heard that Arnaud Desplechin is already doing it (which is great because I'm a big fan of his). There's also a Japanese animated film called PERFECT BLUE that I'd love to do a live- action remake of, but again, I think somebody else already has the rights to it.
D – 3D film is all the rage, as a director who works on more dramatic and emotional storylines, what do you think of this new craze?
JL – I've not yet seen a film in 3D, but I think there's plenty of room for all different kinds of films and film-making.
D – When did you know that you first wanted to be a Director?
JL – When I was fourteen I snuck into PULP FICTION and decided soon after that I wanted to be a filmmaker. Something really cool about that is that Amanda Plummer is in the first scene of PULP FICTION. I had no idea when I was watching her onscreen in a multiplex in Michigan that 15 years later I'd be directing her in my first feature.
D – When directing a film, do you instinctively know which way the film is going to go?
JL – With the script, sure. You always know the way the general story will go. But within a scene, once you have actors, you naturally have to give up part of your certainty and let go of a little control. I like to remain as open as I can to the things they bring in because, very often, their ideas can alter the scene (and the film) slightly for the better.
D – When you begin shooting, you have a very clear idea of where you want the film to go. How important is wardrobe and make up in helping you achieve your vision?
JL – I rely on makeup and costume a lot to help create the characters. In GIRLFRIEND, we relied a lot on colors to help you get to know them quickly. Evan was always in his iconic blue hooded sweatshirt, which always stood out against all the New England greens and browns. Candy usually had something on that was baby pink, and Russ was always in grays and blacks.
D – Is there a place in the world that you would love to film in?
JL – I was in Prague a few years ago and thought it would be really fun to shoot something there. I'd also love to shoot something in South America, Mexico, or Spain because I'm fluent and Spanish and anxious to see if I could direct in another language.
D – How important are festivals like The Toronto International Film Festival, to independent films and young directors like yourself?
JL – Festivals are everything to indie films and young directors. Right now, they are the best venue for people just starting out to find an audience, particularly if the films you want to make are a little bit "different".
D – What advice to you have for aspiring film makers?
JL – Don't wait for anyone to give you permission to make your first feature film, because nobody is likely going to. Do what you can to just go make it.
GIRLFRIEND is currently working towards getting distribution and has taken to the newly popular site www.indiegogo.com. As it has been mentioned by indie film makers, such as Kevin Smith it is incredibly difficult to get funds to distribute movies. Their goal is a lofty $110,000, but if you would like to donate every penny helps. There are also great "perks", for donating certain amounts of money, you can earn these perks (video chat with star/producer/composer Jackson Rathbone and 100 Monkeys Bandmate and co-star/fellow producer Jerad Anderson, Justin Lerner's debut Short film THE REPLACEMENT CHILD DVD, a 2010 TIFF GIRLFRIEND poster, the chance to be an extra or a job as a PA for a day on the set of Wayne/Lauren Entertainment's next film, An evening for two with star Evan Sneider and even your chance to have an Executive Producer credit at the end of the film and on IMBD).
If you can, and would like to, donate so that GIRLFRIEND can make it out into theaters you can visit their campaign site Here: http://www.indiegogo.com/Girlfriend-2. As an editorial note, this is one of those movies that everyone should have the ability to see.