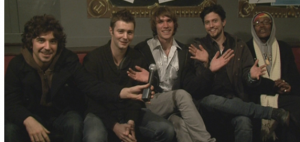 Monkey Junkies everywhere are broken-hearted.  On March 4, an official statement on the 100 Monkeys website announced that Jackson Rathbone and Jerad Anderson will be leaving the band due to personal reasons.
Due to demands on their personal lives and professional careers, our good friends
Jackson Rathbone and Jerad Anderson will be leaving the band as active members. We have much love for both and wish them well, and they will always be welcome if they should ever decide to drop in on any future shows, or make appearances on recordings. The last four years of albums, tours and other projects have truly been fantastic, and the legacy they leave behind in their work will be remembered in all of our future endeavors. We wish them the best in their future projects and anticipate great new things to come.

Ben Johnson, Ben Graupner, and Lawrence Abrams will continue with 100 Monkeys and will be working onward with the release of the band's new single "City of Bones," March 12th, and a set of shows in Los Angeles, San Diego, San Francisco, and Las Vegas starting this April. We will be playing these as a five-piece and will announce the names of the accompanying musicians shortly.
Personally, replacing any of the band members looks to be difficult given that the 100 Monkeys aren't your typical band.  Every member of the band plays almost every instrument and needs to be very versatile.  But we want to hear from you.  How do you think this will effect the 100 Monkeys and if you consider yourself a fan, will you continue to support them even without two of their original members?
Read the whole story at the band's website.  Thanks to Hypable for the heads up.