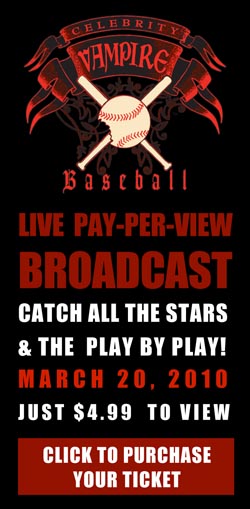 If you can't attend the Vampire Baseball event in New Orleans today, March 20th, no fear, you can now get it online. Check out the details below.
"Check out all the action as some of your favorite Twilight stars take to the field to play Celebrity Vampire Baseball in New Orleans on March 20, 2010. This special event is a benefit to raise money for Haiti Relief efforts!
The most exciting way to watch the game is to be there in person but if you aren't so lucky, this is the next best thing!
Now you can have a front row seat for the game (see all the action, get to see special interviews with cast members) through our special pay-per-view broadcast! Reserve your tickets now for the game.It's a simple process. Just click on this link – and it will guide you step by step on how to purchase your ticket for the broadcast.
Everything you need is explained Step-by-Step. Purchase and information here.
Last year we had thousands of fans who followed the game via twitter – but they could not watch the game live. This year – we've made arrangements to do a professional broadcast of this exciting game for Twilight Fans!
We have teamed up with one of the leading web-streaming/broadcasting companies in the country (payperlive.com/stickam) to do a live streaming pay-per-view broadcast of the game. Fans can purchase a ticket for $4.99 which will give them access to the live broadcast on March 20, 2010. Starting Tuesday, March 9, fans will be able to make reservations so they won't miss out on watching Celebrity Vampire Baseball live!
25% of all proceeds from the PPV go directly to Haiti Relief efforts.
Details of the Broadcast:
Date: 3/20/2010
Time: 12noon – 4pm
Price: $4.99
Broadcaster: FanTrips.Travel – Cox Communications Team of New Orleans
Online Streaming company: Payperlive.com (A division of Stickam)