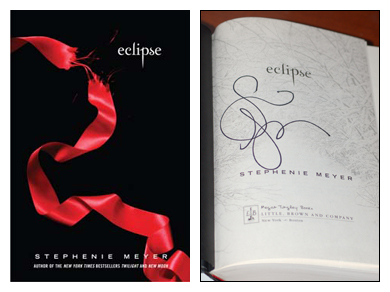 Author Jon S. Lewis has a contest going over at his blog. It's part of his PR efforts surrounding his new novel called Invasion (which is a pretty good read, I'm about half-way through). He has some Stephenie Meyer signed items as part of the prizes. Jon writes:
"I'm excited about my new book, Invasion, and I need your help to spread the word. But I don't like asking favors without giving something in return, so one of you is going to end up with my signed copy of Eclipse from the Twilight Saga by Stephenie Meyer. But that's not all. You can also win . . .
PRIZES
Grand Prize: A signed copy of Eclipse by Stephenie Meyer
First Prize: A character named after you or your child/niece/nephew/grandchild in a CHAOS Novel (including an illustration of that character which will appear in the book)
Second Prize: Original Colt McAlister illustration by Kyle Latino from Invasion
Third Prize: A signed poster from Project Book Babe, including Stephenie Meyer, Frank Beddor, Brandon Mull, Shannon Hale and more."
Check out the full contest details over at Jon's blog.