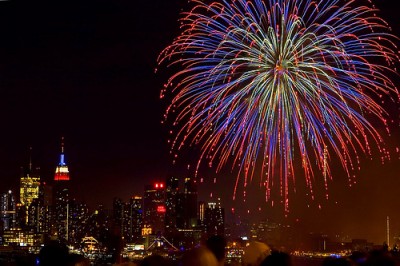 According to a Press Release from NBC:
NBC Celebrates the nation's birthday extravaganza with performances by music superstar Justin Bieber, Grammy® Award winning musician Enrique Iglesias and multi-platinum singer LeAnn Rimes on NBC's 11th consecutive live broadcast of "Macy's 4th of July Fireworks® Spectacular." Cast members from the Twilight Saga: Eclipse will also partake in the excitement onboard the Norwegian EPIC. Hosted by Nick Cannon, from NBC's "America's Got Talent" and Alison Sweeney, from NBC's "The Biggest Loser," the show will air in high definition on Sunday, July 4th 9-10 p.m. ET, 8-9 p.m. CT.
The Macy's 4th of July Fireworks, the nation's largest Fourth of July fireworks display, returns to the Hudson River to illuminate the sky over New York City with a glorious spectrum of colors, shapes and sparkling dazzlers. Featuring more than 40,000 firework shells, American Harmony, the theme of this year's Macy's Fireworks display, will take more than 3 million spectators on a high flying journey through the nation's musical history that is filled with unique harmonies embraced by the entire world.
"Building on last year's success, Macy's will again present its 4th of July Fireworks Spectacular on the Hudson River," said Robin Hall, executive producer of the annual event. "Millions of people along the riverfront and millions more watching the primetime special, which this year will be staged aboard the magnificent new Norwegian EPIC, will see a show a mile and a half long and hundreds of feet in the sky saturated with an unexpected spectrum of rich, jewel-like colors." He added, "There will be huge shells with cores of color that sparkle and astonish. We'll transform the sky into a tapestry of rich colors produced though an alchemy of ancient art and modern technology; colors that are somehow intensified by the soaring vocal-infused Fireworks score."