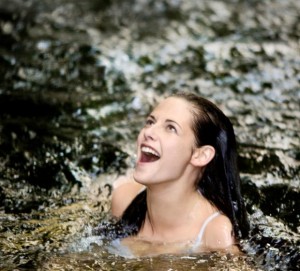 Be warned the review that lies ahead contains massive spoilers, so if you haven't watched the film, don't read it. It's part of Movies.com's latest series called Monday Morning Review (MMR). The concept behind MMR is "…a review of a film the Monday morning after it arrives in theaters. As such, this review is written for people who have seen the film, and will discuss plot points, spoilers, etc, so read it only if you've seen it or if you don't mind knowing everything that happens." The Lexicon's Laura (who freelances a a bi-monthly column for Movies.com) was asked to pen this review.
It would be really easy to jump on the "Wimpy Heroine, Sparkly Vampire, Shirtless Werewolves are Banal Abominations" train. Let's face it, proportionately there are as many reviewers taking that stance as there are going to be folks lining up for midnight sales on Black Friday. Certainly there is more than enough room to poke fun at far-fetched plot lines, predicable longing looks, and implausible dialogue. So taking all of this into consideration, why did The Twilight Saga: Breaking Dawn Part 1 rake in an estimated $30.25 million on midnight screenings alone, and, later, $139.5 million? Far from falling on its economic face, Breaking Dawn Part 1 is well placed to shatter several box office records, and to finish its cinema run as a top five movie of the year.

Given that the novel Breaking Dawn is considered by many fans to be a huge letdown, and that it is the least popular book in the franchise by far, it does make you wonder why the movie version is doing so well. By in large it's been established that this franchise is being fueled but its loyal female fanbase. There are a few fanboys out there known as "Twiguys," but the male audience seems to be largely comprised of men that end up getting dragged along under duress to a screening by their girlfriends, wives or friends. So given that it's a movie "for the fans" that weren't really that happy with the novel, let's take a look at why Breaking Dawn Part 1 is succeeding.
See the rest on Movies.com