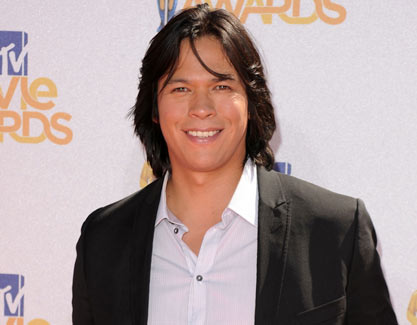 Moviefone just talked to Chaske Spencer about the surreal Twilight life.
Get ready to see 'Twilight' hunk Chaske Spencer in a completely new light — everybody's favorite wolfpack leader packed on the pounds for his role in the upcoming flick 'Winter of the Blood,' and then took his new look to the next level by adding a mullet to the equation for 'Desert Cathedral.' But fear not, 'Twilight' fans; Spencer is as buff and mullet-free as ever in the highly anticipated 'Breaking Dawn' installments, where he reprises his role as peaceful pack leader Sam Uley.

Moviefone caught up with Spencer to chat about everything from the famously intense workouts with Taylor Lautner (and the vomiting that ensued) to how he grossed out 'Twilight' co-star Julia Jones (who plays Sam's ex, Leah Clearwater) with his jiggly new gut.

How has your life changed since becoming involved with 'Twilight'?
It's changed pretty drastically. My face is on bubblegum wrappers now! I've had a lot of surreal moments. It's just amazing to do something that's part of a pop culture phenomenon. I still haven't wrapped my head around it.

During your surreal moments, have you been particularly starstruck by anyone?
Snoop Dogg. And Jackie Chan. I was very starstruck by both of them. MTV International had me work the red carpet as a correspondent for the MTV Movie Awards, so I got to meet everybody and interview them. It was really cool.

What was it like filming 'Breaking Dawn'? I recently spoke with your co-star Tinsel Korey (Emily), and she said it was kind of bittersweet because it's coming to an end.
It's like going to a party. All parties end. It wasn't bittersweet for me. I had already said my goodbyes in my own way to the 'Twilight' experience. I had a great time, made some really good friends. I'll always take all of those memories with me. It was time to go.

You're the leader of the wolf pack. Did you have to participate in the grueling group workouts?
Yeah. We really bonded over the workouts. I think it was really good casting, everyone was a really good fit for those roles. We had really good chemistry. It wasn't that hard to get the character of Sam when I was with those guys. They're like my brothers.
See more on Moviefone