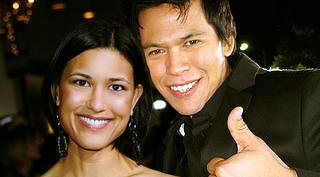 Winter in the Blood starts filming this summer and is a labor of love for fim makers who are trying to stay authentic to the Montana experience.
"The story is set specifically in a place that could only be that region of Montana. So many of the people involved — including major investors and partners — are Montanans or at least have a deep love for Montana," he said. "We're casting a number of actors who are either from here or have a strong connection to this place."
When the Smiths focused on Chaske Spencer — alpha werewolf Sam Uley in the "Twilight" Saga and a Lakota Sioux in real life — for lead character Virgil First Raise, they knew him as a New York actor and only later learned he's from Poplar.
…Another cast member with "Twilight" ties is Julia Jones, who will play Agnes. She was Leah Clearwater in the "Twilight" Saga and is of Choctaw and Chickasaw descent.
"There's a quality in Chaske and Julia that's very powerful," Smith said. "We're excited we get them at this point in their career where they're still willing to be in a low-budget film. It will be interesting to see them in a completely different realm. They're going to have fun playing off each other."
See more on the Great Falls Tribune