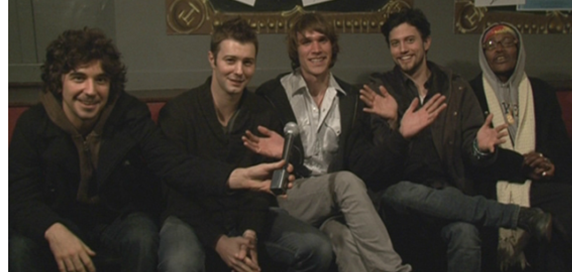 The 100 Monkeys are on tour in the UK, here is what STV thought about the group in their interview.
First off it has to be said that this collection of multi-instrumental musicians are hard to define. The 100 Monkeys, made up of Jackson Rathbone, Ben Graupner, Jerad Anderson, Ben Johnson and M. Lawrence 'Uncle Larry' Abrams, delivered a set bursting at the seams with a quick paced mash of blues beats, soul sounds and rock-n-roll rhythms but with a modern fresh twist.

The result was, under the command of Rathbone, that the swaying crowd were well and truly "funkified" as the upbeat chords of opener Ugly Girl bounced around the room.

Before the gig 100 Monkeys sat down to talk to STV about their unique live shows and how they don't let their busy lives get in the way of coming up with new ways to please their every growing troup of Monkey followers.
100 reasons to see Twilight's Jackson Rathbone and his Monkey mates

Rathbone commented: "With any group of artists who come together to focus on one unified vision you really have to dedicated the time and energy for that and that's not easy. All of us do have different jobs or different bands that we perform in or different avenues of the arts that we pursue. We have to take the time to practise, practise and passion are the two most important aspects of being a musician. There are five of us and we have five very different lives and it can be a chore some times but we make it work we have fun with it."

The thing that makes 100 Monkeys so fun to watch is their energy and unpredictability, they play for the sheer enjoyment of making music and pleasing the crowd. So often we're plopped in front of musicians who lazily deliver a performance that ebbs along giving gig-goers a fulfilled but formulaic few hours. This is not a characteristic of 100 Monkeys. Predictability was replaced by a tightly polished set that wandered across every sound on the musical spectrum.
Check out more including a video that we can't embed on STV