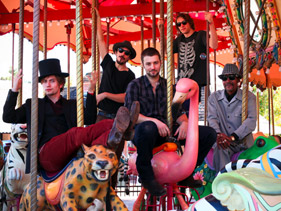 This press release on the 100 Monkeys cross-nation, summer tour just came out:
Twilight star Jackson Rathbone and his band, 100 Monkeys, have hit the road this summer on a headlining tour throughout the U.S. and Canada.  On July 12th, the funk-rock band plays Boston, MA and will continue through August 28th, concluding in San Diego, CA.  Tickets are on sale now at ticketmaster.com and information can be found at http://www.100monkeysmusic.com/.
"We are excited to get back out on the road this summer," says Rathbone.  "We can't wait to rock out with our fans, and we look forward to some great shows."
100 Monkeys, comprised of Jackson Rathbone, Ben Graupner, Jerad Anderson, Lawrence "Uncle Larry" Abrams and Ben Johnson, are multi-instrumentalists known for their raucous, theatrical live-sets, where they switch instruments and lead vocals on almost every song. "Liquid Zoo" (Warrior Records/Universal Music Distribution), the band's second studio, full-length recording album, is on sale now at www.bestbuy.com.
In honor of band member Lawrence "Uncle Larry" Abrams, 100 Monkeys is offering free admission at every concert to any US military veteran, upon arrival at the venue.

Tour dates are as follows:

7/12
Boston, MA – Brighton Music Hall
7/14
Philadelphia, PA – TLA
7/16
New York, NY – Gramercy Theater
7/17
Asbury Park, NJ – Stone Pony
7/19
Allentown, PA – Crocodile Rock
7/20
Baltimore, MD – Bourbon Street
7/21
Norfolk, VA – Norva
7/22
Charlotte, NC – Fillmore
7/23
N. Myrtle Beach, NC – House of Blues
7/25
Nashville, TN – Exit In
7/26
Atlanta, GA – The Loft
7/28
Tampa, FL – Orpheum
7/29
Lake Buena Vista, FL – House of Blues
7/30
Ft. Lauderdale, FL – Revolution
7/31
Jacksonville, FL – Jack Rabbits
8/2
Birmingham, AL – Work Play
8/4
New Orleans, LA – House of Blues
8/5
Houston, TX – House of Blues
8/6
Dallas, TX – House of Blues
8/7
Austin, TX – Emo's
8/9
Tulsa, OK – Cain's Ballroom
8/10
St. Louis, MO – The Pageant
8/11
Kansas City, MO – Beaumont Club
8/13
Denver, CO – Marquis Theatre
8/14
Colorado Springs, CO – Black Sheep
8/16
Salt Lake City, UT  – The Grand Room
8/19
Vancouver, BC – Venue
8/20
Spokane, WA – The Knitting Factory
8/21
Portland, OR – Wonder Ballroom
8/23
San Francisco, CA – The Fillmore
8/25
Los Angeles, CA – El Rey Theatre
8/27
Anaheim, CA – House of Blues
8/28
San Diego, CA – House of Blues