Last weekend the Official Twilight Convention came to Nashville, TN for the second time. The original line up for the weekend was totally pulled due to a change in filming for Breaking Dawn for the wolf pack as well as some last minute family obligations for Peter Facinelli. I'm sure this left the staff at Creation Entertainment scrambling for alternate guests. What they came up with was a lineup of rarely seen and brand new faces to the convention circuit.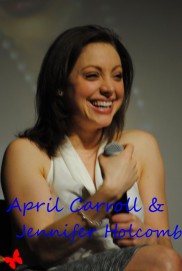 Friday brought in the first of the new comers to the convention circuit with Leah Gibson. She played Nettie in Eclipse and tells a really great story about David Slade's direction for that scene. We interviewed her afterwards and got her to retell the story so that we all can enjoy it. She also hosted the karaoke party at the spur of the moment and sang a few songs with a voice that reminded me of Nora Jones.  We will post our interview with her sometime next week.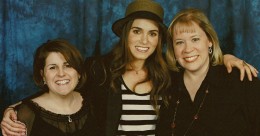 We also got to sit through two Q&A sessions with Nikki Reed, who has done only a handful of conventions thus far. She was very friendly and spoke at length about the dangers of playing a "mean girl" in films and how the media just assumes you must be mean in real life. In the second Q&A held for a small group of fans, she told a story of being approached at a premier by a reporter who constantly says negative and untrue things about her. Nikki's father actually stepped in and told the reporter to lay off his daughter and to remember that everyone you say some something horrible about is someone's child. It was a very touching story. Nikki also spoke about how great it was to bond with Kristin Stewart during the filming of Breaking Dawn. She said that Bella and Rosalie build a sort of intimacy through the film by the way they both connect to Renesmee.
Saturday brought the return of Gil Birmingham and Charlie Bewley to Nashville. Both actors are enjoying success outside of the Twilight franchise right now with Rango and Like Crazy. Their joint Q&A was a little like a comedy routine with several innuendoes dropped along the way. Charlie let us in on a prank he pulled on Nikki Reed where he put a Team Demitri photo on her rear end and even showed a photo as proof. Gil talked about how he loves reading the comments on his facebook page, especially the comments on this photo of him and Peter Facinelli punching each other.
Jodelle Ferland was on hand to answer questions about playing Bree as well as all the various other projects she has worked on.  Jodelle actually came in right from the Canadian Academy Awards!  Being one of the busiest cast members, as well as one of the youngest, we are always so impressed with how poised and down to earth Jodelle is.  When asked who she would pick to play Diego should Bree get her own movie treatment, Jodelle blushed and said she didn't know.  She asked for suggestions from her twitter followers!  Send your ideas to @JodelleMicah.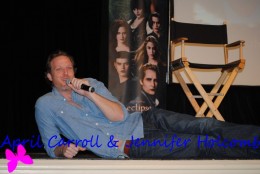 The newcomer of the day was Patrick Brennan who plays Liam in Breaking Dawn. Although he seemed a little nervous at first, Patrick warmed up to the crowd and soon was lying on the floor and striking sexy poses while the crowd went wild. He is 6'6" which is just a tad shorter than Dan Cudmore for those of you who have met Dan in person. But Patrick assured us he could take Dan in a fight! We learned that Patrick's son's name is Liam, which he took as a sign that this was meant to be. Patrick couldn't give too many details away about Breaking Dawn but he did say that he worked at length with a vocal coach to get the perfect Irish accent. He also said that the new vampires choreographed a dance routine as a joke and had a dance off against the Volturi. He assures us that we will see it on the out takes! We interviewed Patrick and will post that video as soon as we get it edited sometime next week.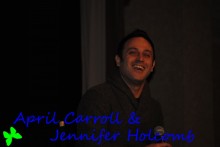 Sunday brought in the last of the new cast members. Guri Wienburg, who plays Romanian vampire Stefan, took the stage for the last Q&A of the weekend. When asked about the vampire dance off he said that Patrick wasn't supposed to say anything but it was too late to take it back! He confirmed that he does speak with an accent for the film but wouldn't spoil us with even a taste of it. He said that it was nice to play a vampire with an alternate set of motives from all the rest of the cast because it gets him some attention. He also spoke very highly of his Romanian cast-mate, Noel Fisher. He said that he and Noel hit it off very well and have a great chemistry as Vlad and Stefan to the point where they really seems to be communicating non-verbally with the sinister looks they give each other. Guri also added that even though Stephenie was there to offer advice and answer questions that she was really great about letting an actor play with the material and bring his own qualities to the characters. He actually was very protective of any and all Breaking Dawn information but did treat the audience to a vampire glare or two.
Lastly, even though we had a wonderful time with the actors, I have to say that the show stopping moment came during the costume competition when a dead ringer for Billy Burke came out dressed just like Charlie Swan right down to the can of Rainer Beer in his hand. I have never ever seen a crowd react the way this crowd did when he walked out. In fact, Hillary from The Hillywood show, even responded to him by saying something to effect of "DAD! I told you not to come this weekend!" Honestly, the crowd was screaming so loud that I couldn't hear what she said. If you were there and know exactly what she said, let us know in the comments.
Over all, it was a wonderful weekend full of information and great conversations. I'm so looking forward to getting to meet other new cast members. It really helps build the already tense excitement that the fandom is feeling as we slowly approach to the release of Breaking Dawn.
Special thanks to @aprilcarroll01 & @JenHolcomb77 for letting us use their photos of the actors!  You can see more pics on facebook.