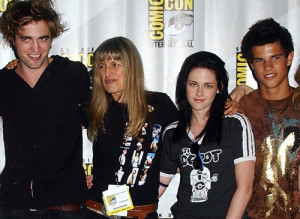 Just after Comic Con 2014, EW ran this story about how the Twilight Fanchise changed SDCC and asked if that change was for the good.  The whole article is wonderful!  Here are some highlights:
A few years ago, though, there was a pretty clear narrative on Comic-Con (it's getting bigger) which came with its own cool-kid anti-narrative (it's getting too big!) And there are a few hundred reasons behind both those narratives, but the unifying whipping boy was Twilight. The franchise arrived at Comic-Con in 2008. It shared a panel with the forgotten telekinetic thriller Push (starring future Twilight baddie Dakota Fanning and future Captain America Chris Evans); other films shown off at Comic-Con 2008 included Terminator: Salvation, The Mummy: Tomb of the Dragon Emperor, and Watchmen. Reading contemporary reports about the film's panel, you find a lot of confusion (what is this movie doing here?) and more confusion (why are there so many people cheering so loudly for this movie I've never heard of?)

Time passed. The lines for Twilight became historic; in 2009 and 2010, you started hearing the stories about how the line for Hall H was becoming a self-sustaining Hooverville economy, with Twihards waiting in line for days hoping to catch a glimpse of Pattinson/Stewart et al. 

[Then] began the meme of "What is [thing I don't like] doing at Comic-Con?" Why was Glee at Comic-Con? Why was How I Met Your Mother at Comic-Con? Why was Castle at Comic-Con? Oh, Nathan Fillion's in that? Well, okay, but why is Glee at Comic-Con?

There was a sense that Comic-Con's glorious past had been replaced by a vaguely dystopian future; there was a sense that something had invaded, though it was hard to say whether that "something" was Hollywood or teenagers or anything that wasn't a comic book. 

Flashforward to this year's Comic-Con…But this was the Comic-Con where American Horror Story finally arrived in San Diego, which also means that this was the Comic-Con where Kathy Bates got a standing ovation.  It's hard to know where something like American Horror Story would have fit into Old Comic-Con; this year, I saw a long line of people despondently waiting to fit into the small corner room where the AHS panel took place. (Bet you next year they move to Ballroom 20.) 

Comic-Con has gotten much bigger–but the flip side is that it's gotten much more interesting. Certainly, it's feels like it's welcoming more kinds of people. 

Is this all a direct response to Twilight? I think yes. When you think of fandom pre-2000, the idea of a fan is split pretty cleanly: There's the Fan-As-Living-Encylopedia, who can spout minutiae from Steranko's entire run of Nick Fury, Agent of S.H.I.E.L.D.; and there's the Fan-As-Living-Freakout, the screaming hordes in A Hard Day's Night who love the Beatles so much they start crying. Twilight at Comic-Con somehow fused those two fandom aesthetics into one; you could camp out for days speaking with serious fluency about the changes made from book-to-film, but you could also scream into near-unconsciousness whenever Pattinson answered a question. Anyone could be a megafan of anything–and more and more, "anything" was going to be at Comic-Con.
What are your thoughts?  Did Twilight's presence at SDCC change it for the better or the worse?  And how many of you would have never gone to SDCC had it not been for Twilight?  Read the whole story at EW.