Yes you read that right, there is a new Twilight novel. Ew has the details:
In honor of the 10th anniversary of her best-selling vampire romance, Twilight author Stephenie Meyer has written a 442-page reimagining of the novel that made her a publishing sensation. This time around, she's switched the genders of her protagonists. Yes, it's true. In the new tale titled Life and Death: Twilight Reimagined, Bella Swan is now a boy named Beau (short for Beaufort) and the brooding Edward Cullen is now Edythe. Meyer is expected to discuss the project in more detail during an appearance Tuesday morning on Good Morning America.
For a full explanation of why the gender swap, see the EW article.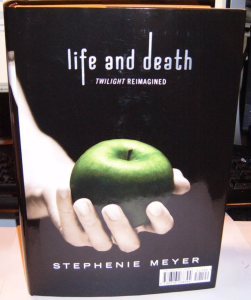 This new material is available in the 10th anniversary edition of Twilight that is out today