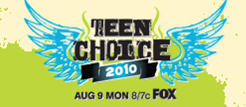 New Moon is heavily represented in several categories at the annual Teen Choice Awards. The awards air on August 9 on Fox at 8:00/7:00.
So far this is who is slated to be in appearance from the Twilight cast. Keep in mind that these appearances change day-to-day because many of the actors are currently filming other projects and have to squeak the awards show in between filming if their schedule allows.
Charley Bewley, Justin Chon, Kiowa Gordon, Ashley Greene, AlexMeraz, Robert Pattinson, Bronson Pelletier, Jackson Rathbone, Nikki Reed, Christian Serratos, Michael Welch.
Currently missing from the line-up are Peter Facinelli (filming Loosies), Kristen Stewart (filming On the Road), Taylor Lautner (filming Abduction), Tinsel Korey (filming in Germany), Kellan Lutz (reshoots on The Immortals).
According to their press release: "FOX and Ustream, the leading live interactive broadcast platform, have partnered to offer viewers an exclusive look at the TEEN CHOICE 2010 red-carpet action with a special live webcast airing Sunday, Aug. 8 (3:30-5:00 PM PT live/6:30-8:00 PM ET live) online at ustream.tv/teenchoiceawards/v3 and teenchoiceawards.com.
Hosted by online personality Michael Buckley ("What The Buck Show"), the webcast will cover all the action at the summer's hottest event and highlight the stars as they arrive on the red carpet. A special encore of the webcast will air Monday, Aug. 9 (6:30-8:00 PM ET/PT) at ustream.tv/teenchoiceawards/v3 and teenchoiceawards.com."
Remember you can vote until tomorrow so get over there and cast your ballot!