The Twilight movie twitter is releasing info location by location…sort of…they are releasing the cities involved.  All the cities have now been announced with the talent that will be there.  As you can see, there is no information of location aside from the city.  We don't know what stores, but if it's like last year they will be at various Borders, Barnes and Nobles, and Walmarts and other stores hosting midnight parties.  We will inform you if we learn anything more about their locations.
New York City:
Peter Facinelli
Pittsburgh:
Edi Gathegi

Atlanta:
Chaske Spencer & Tyson Houseman
Seattle:
Melissa Rosenberg
Salt Lake City:
Mike Welch, Christian Serratos, Justin Chon
Houston:
Daniel Cudmore
Phoenix:
Liz Reaser
Denver:
Charlie Bewley
Cincinnati:
Tinsel Korey and Kiowa Gordon
Los Angeles:
Nikki Reed & Chris Weitz
Pel (Laura) from the Lexicon and Kara from Twilight Moms will be doing a DVD release party and podcast at the Borders, Columbus Circle.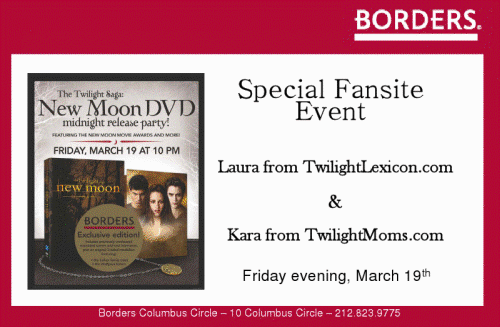 The podcast will start at 10:00pm. We'll be discussing our experiences on the red carpet, the set visits, current Twilight news and we'll be doing some trivia with giveaways. Come on down and enjoy the fun!