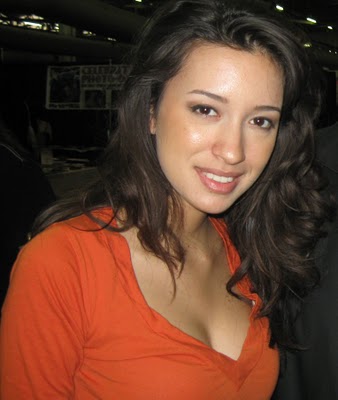 Looks like it's Twilight week over at the Huffinton Post, first they there was an amazing article on why the books and movies mean so much to people, and now there is this look at Christian Serratos.
"As the ardor cools for The Twilight Saga: Eclipse, it's easy to forget all the humans except that most desired one — Kristen Stewart's Bella. But there are the others, from the ever-surging actor Anna Kendrick as head geek Jessica to Billy Burke as poppa Swan.
And then there's actress Christian Serratos's bespectacled Angela Webber, who kind of reflects the film's own core girl-geek squad.
After the 20-year-old Serratos made it into The Twilight Saga, she started to tour the con circuit making sure that the humans other than Bella weren't forgotten. So she made it to New York last October, to Anaheim this April and has had time to bare all for PETA. And her few moments of screen time in the installments reveals real flashes of talent — part of what she discusses in this exclusive interview conducted during one of those con excursions.
Though she has limited screen time again in the third installment, she does have this incredible ringside seat to see this Virgin-Vamp saga emerge and see how everyone has evolved in doing it. As close up to the center of the media circus as anyone, Serratos has not only witnessed the Twilight phenomenon from the inside out, she has felt the glare of that white hot spotlight that Kris Stewart and Rob Pattinson have been subjected to throughout."
See more on the Huffington Post.
Via Twfans