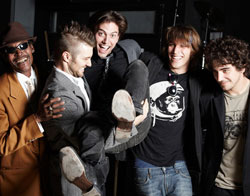 According to MTV's Hollywood Crush:
"Get ready to go bananas, Crushers: Jackson Rathbone's band 100 Monkeys is not only gearing up to release their second full-length album, but they'll be hitting the road this summer to promote it!
It's refreshing to see that the "Twilight" star, despite being busy finishing up the second half of "Breaking Dawn," hasn't neglected his funky, eclectic band that caught our attention in 2009 (he was even kind enough to do a video diary and debuted one of their music videos exclusively for Hollywood Crush!)
The band announced on their official website that their upcoming record, which is aptly titled Liquid Zoo, will be released on June 28, which just so happens to be the same day they head out on tour!"
They are playing all over the US and Canada. Some of the venues have great history behind them. For example they are playing The Stone Pony in Asbury Park,  New Jersey which is the club Bruce Springsteen started out in.  Most of the venues are for all ages, so no worries about under 21's having no chance of getting in.